Perfectly Logical!: Challenging Fun Brain Teasers and Logic Puzzles for Smart Kids (Paperback)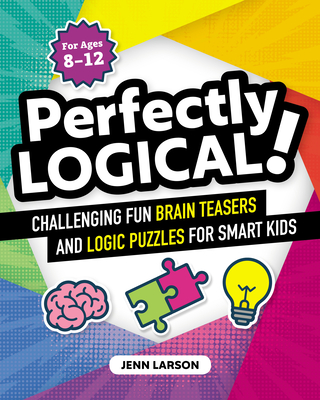 $12.99

Usually Ships Within a Week
Description
---
Sharpen critical-thinking skills with fun logic puzzles for kids ages 8 to 12
Puzzles and brain games are a great way for kids to exercise their minds while having a blast!
Perfectly Logical!
helps inquisitive kids develop logical reasoning skills with a mix of 100 challenging puzzles that get more difficult as they progress.
This awesome book of logic puzzles for kids includes:
A variety of brainteasers―Solve logic grids, crosswords, secret codes, cryptograms, Sudoku puzzles, and more.
Skill-building puzzles―Help your child become a well-rounded logical thinker with games that focus on different reasoning skills, like problem-solving, memory and processing speed, and abstract thinking.
Instructions and examples―Find clear instructions on how to complete each activity, with helpful examples and tips for getting started on the right foot.
Boost your child's brainpower with engaging and educational logic puzzles for kids!
About the Author
---
JENN LARSON has been an elementary school teacher for more than 20 years. In addition to her daily teaching duties, she's also an author-teacher at The Teacher Next Door (www.the-teacher-next-door.com). Jenn loves sharing teaching ideas and activities for busy teachers and homeschool parents, as well as creating resources for upper elementary students. When she isn't solving puzzles, you can find her hiking, visiting the beach, or looking for new adventures.
Praise For…
---
"Jenn has really provided a fantastic collection of brain teasers and puzzles for upper elementary children. The colorful book filled with puzzles and teasers are 'PERFECTLY LOGICAL' to improve problem-solving skills and increase abstract thinking! As an upper elementary teacher for 26 years, I find this a valuable resource!"—Pam Olivieri, Owner of Rockin Resources

"If you're looking for activities to challenge and entertain your child or students, Perfectly Logical! is the complete package! What I love most about it is the variety of puzzle types. The reader gets a chance to practice with numbers, language, and visual formats. Each section starts with puzzles that are easier and progresses to more challenging puzzles to set kids up for success. I highly recommend this book to teachers and parents who want an easy way to provide kids with a fun challenge."—Hannah Braun, Curriculum Author, The Classroom Key

"Wonderfully put together with a variety of activities for advanced learners! Perfect for the classroom and/or homeschool setting! The author, Jennifer Larson, hit a home run with this book! You won't be disappointed!"—Emily Garcia, Education to the Core