City of Margins: A Novel (Hardcover)
General Info
McIntyre's Books operating hours are 10am to 5pm Wednesday through Sunday. We are located in Fearrington Village, halfway between Chapel Hill and Pittsboro on US 15-501.
Please note that any and all orders placed on our site are available for in store pick up AND curbside service; we will inform you when your order is ready for pick up.
For those visiting our store in person, we know you will be entering wearing masks as per Governor Cooper's mandate. We are also asking all visitors who are browsing and picking up books to wear gloves which we make available at our entry.
Please call 919.542.3030 if needed. If you reach our answering maching during our open hours, don't fret. Call us back within a minute or two or we will call you back as soon as we can.
We cannot thank you so very much for supporting a local small business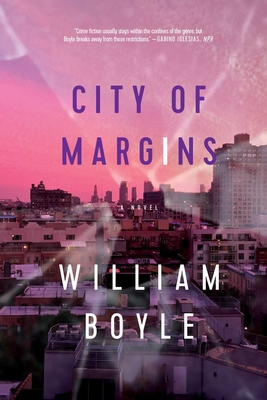 Description
---
A vivid new cast of characters collide in gritty 1990s Brooklyn, in this latest from acclaimed neo-noir author William Boyle.

In City of Margins, the lives of several lost souls intersect in Southern Brooklyn in the early 1990s. There's Donnie Parascandolo, a disgraced ex-cop with blood on his hands; Ava Bifulco, a widow whose daily work grind is her whole life; Nick, Ava's son, a grubby high school teacher who dreams of a shortcut to success; Mikey Baldini, a college dropout who's returned to the old neighborhood, purposeless and drifting; Donna Rotante, Donnie's ex-wife, still reeling from the suicide of their teenage son; Mikey's mother, Rosemarie, also a widow, who hopes Mikey won't fall into the trap of strong arm work; and Antonina Divino, a high school girl with designs on breaking free from Brooklyn. Uniting them are the dead: Mikey's old man, killed over a gambling debt, and Donnie and Donna's poor son, Gabe.

These characters cross paths in unexpected ways, guided by coincidence and the pull of blood. There are new things to be found in the rubble of their lives, too. The promise of something different beyond the barriers that have been set out for them. This is a story of revenge and retribution, of facing down the ghosts of the past, of untold desires, of yearning and forgiveness and synchronicity, of the great distance of lives lived in dangerous proximity to each other. City of Margins is a Technicolor noir melodrama pieced together in broken glass.
About the Author
---
William Boyle is from Brooklyn, New York. His books include: Gravesend, which was nominated for the Grand Prix de Littérature Policière in France and shortlisted for the John Creasey (New Blood) Dagger in the UK; The Lonely Witness, which is nominated for the Hammett Prize; and, most recently, A Friend Is a Gift You Give Yourself. He lives in Oxford, Mississippi.
Praise For…
---
"Boyle studies Donnie and his neighbors with a mixture of affection and despair worthy of a Bruce Springsteen song. He has a real thing for working-class folks. People like this, they need people like Boyle."
— Marilyn Stasio

"In his fourth novel since his stunning debut, Gravesend, the grandly talented Boyle is still in the Brooklyn neighborhood where he grew up. He knows the music of the Italian American voices, from punk to bar stool to operatic, like nobody else: Mob goons, college dropouts, melancholy widows and pink-haired rockers mix it up in this deliciously convoluted tale that reads like a fresh new season of The Sopranos."
— Washington Post

Outstanding. Battered by loss and unrealized dreams, Boyle's characters are vividly drawn and painfully real. Fans of literary crime novelists such as George Pelecanos and Richard Price will be highly rewarded.
— Publishers Weekly (starred)

"Boyle's latest is another slice of gritty urban noir. The author's exquisitely drawn characters soon uncover secrets and make connections with each other that echo those of a Greek tragedy, with similar results. Boyle comfortably stands next to literary crime favorites like Don Winslow, Richard Price, and Lou Berney."
— Library Journal (starred)

A dark but moving portrayal of working-class lives that evokes the 'kitchen-sink dramas' of such mid-century British novelists as Alan Sillitoe. Eschewing sentimentality yet still managing to find embers of tenderness in these stunted lives, Boyle blends powerful social realism with a strong noir sensibility.
— Booklist

"A precious gem of a crime novel. Boyle is in top form, delivering a work that had me thinking about Dennis Lehane's Mystic River and, thanks to Boyle's dark, knowing humor, the work of New Yorkers like Pete Hamill and Jimmy Breslin."
— Mystery Scene

"A marvelously nuanced study of light and dark. The arts bridge generations, start conversations and, in Boyle's masterful hands, provide softening, wide-angle lenses to the broken and tortured souls of the margins."
— Shelf Awareness

"Another fine novel from William Boyle in the tradition of John Sayles and John Fante."
— Criminal Element

"City of Margins has a tsunami thrust to it. It keeps coming at you and doesn't let go. Tough and tumble, very readable."
— WBAI

"A Jacobean revenge tangle in a Brooklyn where all the players have survived the same nuns. Even the most desperately lost of William Boyle's characters retain a hungry heart."
— John Sayles, writer/director of Matewan, Lone Star, and City of Hope, and author of Yellow Earth, A Moment in the Sun, and Union Dues

"A funny, gritty, touching narrative about the strength of three New York women caught in a world of abusive men, broken families, and mob violence. Crime fiction usually stays within the confines of the genre, but Boyle breaks away from those restrictions."
— NPR [praise for William Boyle]

"A brilliant and nasty piece of joyful ambiguity that I Ioved deeply. What a marvelous and unexpected bunch of female characters, in particular. With this one, William Boyle vaults into the big time, or he damn sure should."
— Joe R. Lansdale, author of the Hap & Leonard series [praise for William Boyle]

"As wildly funny and sweet as it is frenetic and harrowing, William Boyle's A Friend Is a Gift You Give Yourself is full of dark splendor. Imagine Martin Scorsese and David O. Russell collaborating with Gena Rowlands and Ellen Burstyn and making magic."
— Megan Abbott, author of 'You Will Know Me' and 'The Fever' [praise for William Boyle]