The Savage Kind: A Mystery (Hardcover)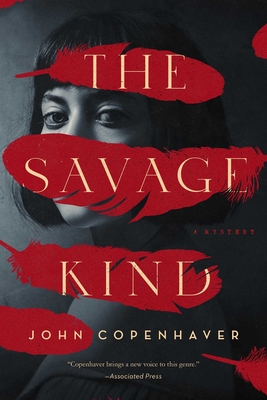 $25.95

Usually Ships Within a Week
Staff Reviews
---
This was another nice surprise. it's a very atmospheric story about two young women, high school students, in postwar Washington, DC. One's a troubled adoptee taken in by her new family to literally replace their murdered only child. The other is a military brat who has never had a place she truly could call home. They become friends and when their favorite teacher suddenly quits and disappears they decide in their own inimitable style to figure out what happened. But nothing is what it seems and slowly a little bit of Machiavelli creeps in, tinged by Daphne Du Maurier, to make us wonder what has actually happened. This is one that will leave you thinking, without a doubt.
— Pete
Description
---
2022 Lambda Literary Award WINNER in LGBTQ Mystery

Two lonely teenage girls in 1940s Washington, DC, discover they have a penchant for solving crimes—and an even greater desire to commit them—in the new mystery novel by Macavity Award-winning novelist John Copenhaver.

Philippa Watson, a good-natured yet troubled seventeen-year-old, has just moved to Washington, DC. She's lonely until she meets Judy Peabody, a brilliant and tempestuous classmate. The girls become unlikely friends and fashion themselves as intellectuals, drawing the notice of Christine Martins, their dazzling English teacher, who enthralls them with her passion for literature and her love of noirish detective fiction.

When Philippa returns a novel Miss Martins has lent her, she interrupts a man grappling with her in the shadows. Frightened, Philippa flees, unsure who the man is or what she's seen. Days later, her teacher returns to school altered: a dark shell of herself. On the heels of her teacher's transformation, a classmate is found dead in the Anacostia River—murdered—the body stripped and defiled with a mysterious inscription.

As the girls follow the clues and wrestle with newfound feelings toward each other, they suspect that the killer is closer to their circle than they imagined—and that the greatest threat they face may not be lurking in the halls at school, or in the city streets, but creeping out from a murderous impulse of their own.
About the Author
---
John Copenhaver's historical crime novel, Dodging and Burning, won the 2019 Macavity Award for Best First Mystery, and his second novel, The Savage Kind, won the 2021 Lambda Literary Award for Best LGBTQ Mystery. He is a founding member of Queer Crime Writers and an at-large board member of Mystery Writers of America. He currently cohosts on the House of Mystery Radio Show. He's a faculty mentor in the University of Nebraska's Low-Residency MFA program and teaches at VCU in Richmond, VA, where he lives with his husband, artist Jeffery Paul.
Praise For…
---
"Philippa Watson and Judy Peabody, the nervy teenage duo at the center of John Copenhaver's delicious trilogy opener The Savage Kind, each bring loneliness to a friendship that burns with intensity from the get-go. Their fascination — or is it obsession? — with each other, and with crime, begins after the death of a fellow student and the disappearance of a beloved pulp-fiction-loving teacher. To expose the darkness and rot beneath his tale, Copenhaver peppers it with literary allusions — Greek tragedy abounds, as do allusions to Wuthering Heights, classic poetry and contemporary detective fiction. But this 1940s noir homage would not succeed if it weren't for Judy and Philippa's chemistry, which promises to deepen — and perhaps combust — over two more books."
— Sarah Weinman

"A gripping coming-of-age story set in 1948 propels the character-driven The Savage Kind, which explores the unresolved sexual attraction between two teenage outcasts, quiet Philippa Watson and opinionated Judy Peabody. John Copenhaver's second novel (after the Macavity Award-winning Dodging and Burning) captures the awkwardness of teenagers grappling with identity and a need to belong."
— Oline Cogdill

"Wow. The Savage Kind is evocative, seductive and rivetingly creepy. John Copenhaver proves he is a brilliant talent, and this gorgeously unsettling story of power, control, gaslighting, and murder is not to be missed."
— Hank Phillippi Ryan, USA Today Bestselling author of Her Perfect Life

"John Copenhaver's dark sparkler of a second novel, The Savage Kind, tantalizes from its first pages. With rich period detail and a sneaky subversion of storied noir tropes, it brings to life the delicious intricacies of teen female friendship and the slippery line between identification and desire, between desire and desperation."
— Megan Abbott, award-winning author of The Turnout

"Clever girls with dark leanings... powerful DC families hiding dangerous secrets... The Savage Kind is a new take on femme fatales in a dazzling 1940s noir wrapper. Copenhaver will have you guessing till the very last page."
— Alma Katsu, author of Red Widow and The Deep

"Copenhaver's tale unfolds via breathless diary entries from both girls, strung together by an anonymous narrator in 1963. A profusion of devastating twists complements the pulp-noir tone and keeps readers on tenterhooks, and a tentative romance between Judy and Philippa adds depth. Megan Abbott fans, take note."
— Publishers Weekly

"Fans like me of John Copenhaver's debut novel Dodging and Burning will be thrilled with The Savage Kind which, like its predecessor, wraps a page-turning story in elegant prose. Once again, in Judy and Philippa, he has created compelling and morally complex characters who are both appealing and appalling. The Savage Kind is an exciting and riveting tale told by one of crime fiction's emerging talents."
— Michael Nava, author of the Henry Rios mysteries

"Copenhaver's latest is jam-packed with noir themes and plot twists. Sure to please fans of queer fiction and twisty mysteries."
— Library Journal

"Copenhaver does a magnificent job of capturing the ever-shifting nature of teenage girls. Intelligent, bold, and passionate, Philippa and Judy are bursting with the possibilities of who they may become. The Savage Kind accomplishes a self-aware nostalgia, reveling in the good memories while shining a light on the more sinister aspects of the past. The result is a suspenseful and thrilling novel unapologetic in its revitalization of classic elements of crime fiction and its appreciation for complicated, morally gray women seeking agency over their lives, using whatever means possible to do so."
— Zyzzyva

"The Savage Kind is a superbly multi-layered mix of a dizzyingly twisty murder mystery, a poignant coming-of-age love story, and a psychologically astute exploration of the blurry lines between infatuation, love, and obsession. John Copenhaver is in top form, using an inventive structure to create a haunting and wonderfully atmospheric page-turner. I loved this book."
— Angie Kim, bestselling author of Miracle Creek

"John Copenhaver has managed to unmask one of literature's most elusive and underrepresented psyches: the evolving teenage girl. While fictional young women are often presented as harmless caricature, Copenhaver's dual heroines crackle with a burgeoning anger and sense of self. As with other unreliable narrators – Humbert Humbert in Lolita; Mary Katherine in We Have Always Lived in the Castle – warning signs are dropped early that you should not be taken in, that you should keep your guard up. The story is so alluring that you soon forget the warning signs and plunge headlong into the thicket."
— Ava Barry, Author of Windhall

"Copenhaver has crafted a tangle of mysteries as beautifully woven as a spider's web. Ominous asides hint at the darker story to come: false identities, forbidden liaisons, and murderous family secrets. Nothing can be guessed because nothing is as it seems, except the affection between the two friends who team up to solve a classmate's death. An enthralling, genre-bending read from the first word to the last."
— Timothy Jay Smith, author of Fire on the Island

"The Savage Kind was terrific—dark, twisty, fierce, well worth the wait. It'll be fascinating to see what those two are up to in the next book!"
— Neil Nyren

"John Copenhaver is proving himself to be a force of nature in the crime fiction community."
— The BOLO Books Review