Big Girl, Small Town (Paperback)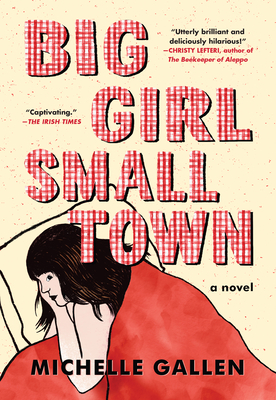 $16.95

On Our Shelves Now. We will contact you when your order is ready. Closed Mon & Tues.
Staff Reviews
---
Hypnotic prose transports the reader to a small Northern Irish border town and into the life of a very unusual (but totally relatable) protagonist. Good for a few laughs and full of witty, lyrical dialogue.
— Billy
December 2020 Indie Next List
---
"You might fall in love with this rough, bawdy, funny, and heart-wrenching novel because of the skill with which Michelle Gallen gives you the cadences and nuances of English as spoken in small-town Northern Ireland. You might fall in love because Gallen is showing you a working-class setting seldom depicted on either side of the pond, an atmosphere of sweat, grease, and labor, of Friday night pubs and Saturday hangovers, of people bursting with shattered dreams and electric intelligence. But you'll most fall in love with Majella O'Neill, the narrator. She is unapologetically and completely herself, and unlike anyone I've met in fiction before. Through O'Neill, Gallen offers an outlook and experience that I'd happily share with other readers."
— Robert McDonald, The Book Stall, Winnetka, IL
Description
---
"An immensely lovable debut novel . . . It's the kind of magic you'll feel lucky to find." —Ron Charles, The Washington Post  

SHORTLISTED FOR THE COSTA FIRST NOVEL AWARD
FINALIST FOR THE IRISH BOOK AWARD FOR NEWCOMER OF THE YEAR 
FINALIST FOR THE COMEDY WOMEN IN PRINT PRIZE

Meet Majella O'Neill, a heroine like no other, in this captivating Irish debut that has been called Milkman meets Derry Girls

Majella is happiest out of the spotlight, away from her neighbors' stares and the gossips of the small town in Northern Ireland where she grew up just after the Troubles. She lives a quiet life caring for her alcoholic mother, working in the local chip shop, watching the regular customers come and go. She wears the same clothes each day (overalls, too small), has the same dinner each night (fish and chips, microwaved at home after her shift ends), and binge-watches old DVDs of the same show (Dallas, best show on TV) from the comfort of her bed. 

But underneath Majella's seemingly ordinary life are the facts that she doesn't know where her father is and that every person in her town has been changed by the lingering divide between Protestants and Catholics. When Majella's predictable existence is upended by the death of her granny, she comes to realize there may be more to life than the gossips of Aghybogey, the pub, and the chip shop. In fact, there just may be a whole big world outside her small town. 

Told in a highly original voice, with a captivating heroine readers will love and root for, Big Girl, Small Town will appeal to fans of Sally Rooney, Ottessa Moshfegh, and accessible literary fiction with an edge.
About the Author
---
Michelle Gallen was born in County Tyrone in the mid 1970s and grew up during the Troubles a few miles from the border between what she was told was the"'Free" State and the "United" Kingdom. She studied English literature at Trinity College Dublin and won several prestigious prizes as a young writer. Following a devastating brain injury in her midtwenties, she co-founded three award-winning companies and won international recognition for digital innovation. She now lives in Dublin with her husband and kids.
Praise For…
---
A Milwaukee Journal Sentinel Best Book of 2020

"An immensely lovable debut novel . . . Gallen manages to evoke in us a wave of complex feelings. It's the kind of magic you'll feel lucky to find."
—Ron Charles, The Washington Post 

"Irish newcomer Michelle Gallen debuts with a hysterically honest and moving portrait of a young girl on the autism spectrum, her irresponsible mother, and the residents of a small Irish village just after the Troubles."
—Parade

"An inventively foulmouthed gem of a novel . . . Majella, our clear-eyed protagonist, is far more than a gifted wisecracker . . . Majella is a welcome addition to the diverse family of protagonists that includes young Christopher Boone in Mark Haddon's The Curious Incident of the Dog in the Night-Time, Hesketh Lock in Liz Jensen's The Uninvited, and Keiko in Sayaka Murata's Convenience Store Woman, all of whom perceive reality through a similar lens . . . In this oddly affecting novel of everyday defeats, [Majella's] triumph is more thrilling than any army's victory."
—The Wall Street Journal

"[Majella] is bright, earthy and funny . . . [A] brilliant comic novel."
—Milwaukee Journal Sentinel

"Majella is a compelling character caught in a fascinating slice of time, and her journey is exquisitely rendered. With echoes of Gail Honeyman's Eleanor Oliphant Is Completely Fine crossed with the 1990s-set sitcom Derry Girls, this debut is recommended for fans of Ottessa Moshfegh, Emma Donoghue, and Sally Rooney."
—Library Journal, starred review

"[A] sensational debut . . . Gallen's effortless immersion into a gritty, endlessly bittersweet world packs a dizzying punch."
—Publishers Weekly, starred review 

"[A] darkly comic novel . . . Majella is a nuanced and complicated heroine . . . Fans of Sara Baume's novels and the Irish TV series Derry Girls will adore this complex, clever, and deeply moving debut novel."
—Booklist, starred review

"An irreverent portrait of small-town Northern Ireland . . . Uproariously funny."
—Kirkus Reviews
 
"I loved Majella from the first page. Our relatable heroine jumps off the page like an old friend. Utterly brilliant and deliciously hilarious! With humor, wit and beauty, Gallen subtly unveils a violence and conflict that lies beneath, exploring the legacy of the Troubles and the deeply felt effects through generations."
—Christy Lefteri, author of The Beekeeper of Aleppo

"Fans of Milkman rejoice! Through its keen, immersive focus on the seemingly mundane routines of a Northern Irish town just after the Troubles, Big Girl, Small Town illuminates an enigmatic, violent social ecosystem. When have I read a tougher, more tender protagonist for the ages than Majella? She is an apt, heartbreaking guide through this fierce, raw, unignorable debut."
—Marie-Helene Bertino, author of Parakeet
 
"Big Girl, Small Town is a darkly funny, big-hearted novel about feeling ordinary in a tumultuous world. Set in Northern Ireland just after the Troubles, this novel is wildly charming, relatable, and downright addicting. Despite a life full of political and personal ruin, heroine Majella O'Neill is an extraordinary force of light fighting to figure it all out. Perfectly delightful and incredibly moving, you won't be able to put this book down." 
—Crissy Van Meter, author of Creatures

"A darkly hilarious novel about small-town life . . . Wildly entertaining."
—The Guardian

"Sinead Moriarty's endorsement 'Milkman meets Derry Girls' is as accurate as you'll get. But Big Girl, Small Town is even funnier than Derry Girls, while being just as fraught as Anna Burns's Booker Prize winner." 
—The Irish Independent
 
"A confident debut with a very memorable protagonist."
—The Irish Times
 
"Engrossing."
—Image magazine (One of 8 "Must Reads" of 2020)
 
"Bawdy yet beautiful . . . I grew extraordinarily attached to Majella."
—Sara Baume, author of A Line Made by Walking

"A thrillingly fresh, provocative and touching voice."
—Marian Keyes, bestselling author of Grown Ups
 
"It's the humour, dry and gritty, that sets Big Girl, Small Town apart . . . to think that this is Michelle Gallen's debut is astonishing, as Majella's narration is bold and assured . . . evocative, caustic and compelling."
—Sunday Business Post
 
"A winning evocation of a small Irish community whose people burst from its pages. Engaging and satisfying."
—Daily Mail
 
"Superb." 
—Irish Examiner
 
"Darkly funny."
—Mail on Sunday
 
"Gallen's debut deserves comparisons with Anna Burns' Milkman for its depiction of the impact of the Troubles on a vulnerable young woman, but this terrifically imagined tender black comedy is very much its own book."
—Metro
 
"Charming . . . there is an easy warmth to Big Girl, Small Town."
—Sunday Times
 
"Milkman meets Derry Girls. A cracking read."
—Sinead Moriarty, bestselling author of Seven Letters