Down Along with That Devil's Bones: A Reckoning with Monuments, Memory, and the Legacy of White Supremacy (Paperback)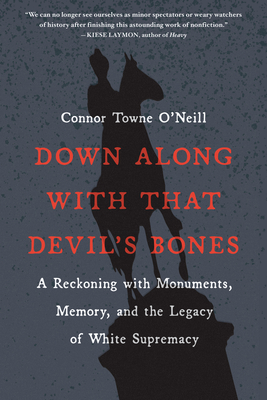 $16.95

Probably On Our Shelves Now! Wait for us to confirm availability.
Staff Reviews
---
Smart and thoughtful. I finished this early one morning and was worthless at work that day. My mind kept churning over all the issues it raised with the most prominent being how it lays bare how thin the veneer of social change has actually been in the South. And much of that can be laid at the bases of monuments across that South that glorified segregation, as personified in the four devotions to Confederate general Nathan Bedford Forrest spotlighted in this book.
— Pete
October 2020 Indie Next List
---
"The past won't go anywhere — especially the racist past endorsed by the contemporary enablers of the Nathan Bedford Forrest mythology. O'Neill's combination of historical research on the 'Southern Cause' and Jim Crow racism, combined with visits the most contentious monuments to slavery, bring this work to visceral life. Down Along With That Devil's Bones brings to mind Tony Horwitz's Confederates in the Attic, but there's much less to laugh about as O'Neill gives us the endless monumental horror of a country's refusal to shake free from the roots of a long racist history."
— Brian Lampkin, Scuppernong Books, Greensboro, NC
Description
---
"We can no longer see ourselves as minor spectators or weary watchers of history a­fter finishing this astonishing work of nonfiction." —Kiese Laymon, author of Heavy
 
Connor Towne O'Neill's journey onto the battlefield of white supremacy began with a visit to Selma, Alabama, in 2015. There he had a chance encounter with a group of people preparing to erect a statue to celebrate the memory of Nathan Bedford Forrest, one of the most notorious Confederate generals, a man whom Union general William Tecumseh Sherman referred to as "that devil." After that day in Selma, O'Neill, a white Northerner transplanted to the South, decided to dig deeply into the history of Forrest and other monuments to him throughout the South, which, like Confederate monuments across America, have become flashpoints in the fight against racism.
 
Forrest was not just a brutal general, O'Neill learned; he was a slave trader and the first Grand Wizard of the Ku Klux Klan. O'Neill encountered citizens who still hold Forrest in cult-like awe, desperate to preserve what they call their "heritage," and he also talked to others fighting to tear the monuments down. In doing so he discovered a direct line from Forrest's ugly history straight to the heart of the battles raging today all across America. The fight over Forrest reveals a larger battle, one meant to sustain white supremacy—a system that props up all white people, not just those defending the monuments. With clear-eyed passion and honest introspection, O'Neill takes readers on a journey to understand the many ways in which the Civil War, begun in 1860, has never ended.
 
A brilliant and provocative blend of history, reportage, and personal essay, Down Along with That Devil's Bones presents an important and eye-opening account of how we got from Appomattox to Charlottesville, and of our vital need to confront our past in order to transcend it and move toward a more just society.
 
About the Author
---
Connor Towne O'Neill's writing has appeared in New York magazine, Vulture, Slate, and elsewhere, and he works as a producer on the NPR podcast White Lies, a finalist for the 2020 Pulitzer Prize in Audio Reporting. He lives in Tuscaloosa, Alabama, and teaches at Auburn University and with the Alabama Prison Arts + Education Project. Down Along with That Devil's Bones is his first book.
 
Praise For…
---
A Library Journal Best Social Science Book of 2020
An Atlanta Journal-Constitution Best Southern Book of 2020

"The truth is that we Southerners have always needed dedicated, self-reflective young folks from the North guided by genius and radical love to help us exorcise the worst parts of our region. Connor Towne O'Neill walks in that radical love tradition in Down Along with That Devil's Bones, but he does something more here. He decimates the argument for our need of Confederate statues while chronicling what their existence grants him bodily and morally."
—Kiese Laymon, author of Heavy

"A personal examination of one of the great divides in our country today . . . Essential reading for how we got from Appomattox to Charlottesville—and where we might go next."
—Kirkus Reviews, starred review

"O'Neill's first book is a dazzling reminder that American racism is robust and virulent. He writes with a fluency of American culture that portends well for his books to come."
—New York Journal of Books

"A well-researched history and a call for reformation in America."
—BookPage

"An eloquent and provocative examination of the links between protests over Confederate monuments in the South and the resurgence of white supremacy . . . O'Neill writes with grace and genuine curiosity . . . This inquiry into the legacy of American slavery is equally distressing and illuminating."
—Publishers Weekly

"Timely, engaging."
—Booklist

"In examining the battles over monuments to Nathan Bedford Forrest, Connor O'Neill deepens his own understanding of the denial, the hatred, the horror, that still infests white people in this country, who do not want to lose their magical image of themselves as the noble race who tamed a continent and lifted up savages out of their barbarity. Unable to face the full horror of what we did in these centuries of brutality against other races, we hide in the idea of the lost cause, the idealization of what we call a way of life, and idolize figures like Forrest, a man who made his fortune in the sale of human beings, and who carved himself into history through his wholehearted embrace of the southern war effort that, by his own words, had the glorification of slavery as its purpose. It is a vital piece of the puzzle, this history, reported in clarity and rich in insight. Would that clarity and insight could lift this curse from our nation at last." 
—Jim Grimsley, author of How I Shed My Skin