Sacagawea: Courageous Trailblazer! (Show Me History!) (Hardcover)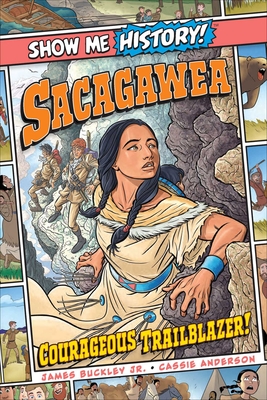 Description
---
Head out onto the trail with the brave, resourceful, and courageous Sacagawea!

What did 33 men in the 1800s need to find their way through the wilderness on a trip across America? They needed a woman—and they found one in Sacagawea, the Native American teenage mother who helped the Lewis and Clark expedition survive. She and her baby braved floods, hunger, storms, and snakes to help the expedition that opened the West. Sacagawea: Courageous Trailblazer! tells the life story of this amazing pioneer who endured hardship in her youth but nevertheless became a fearless leader and a role model for generations to come. Readers of all ages will be entertained and educated by the full-color illustrations and historically accurate narrative of this graphical biography.
About the Author
---
James Buckley Jr. is a prolific author of nonfiction for young readers, with more than 150 books to his credit (and still typing!). He is the author of more than a dozen titles in The New York Times' best-selling "Who Was...?" biography series, including the Wright Brothers, Milton Hershey, Betsy Ross, Jules Verne, and Blackbeard. Buckley has written more than thirty DK Readers on a wide variety of topics, plus two recent long-form bios of Adolf Hitler and Bonnie and Clyde for Aladdin Books. For Spring 2019, he created the first book in a new series for Aladdin—a bio of astronaut Michael Collins. Buckley is the co-author of Time Inc./Liberty Street's "X-Why-Z" series and wrote and produced the Animal Planet Animal Atlas for Liberty Street. A former editor at Sports Illustrated and the National Football League, he lives in Santa Barbara, California, where he runs a successful book producing company.

Cassie Anderson is a freelance artist based in Portland, Oregon. She is the creator behind the webcomic-turned-graphic novel Extraordinary: The Story of An Ordinary Princess, as well as the artist and letterer on the Lifeformed series, a sci-fi YA comic about growing up and doing hard things set in an alien invasion. Both books are published by Dark Horse Comics. She also enjoys making journal and autobiographical comics about her life. When she's not drawing comics, Cassie can be found baking tasty treats or exploring the great outdoors.
Praise For…
---
Praise for the Show Me History! series:
"Bunking the notion that history is dull, these titles in the Show Me History! series convey the lives of notable historical figures through colorful and spirited cartoons." —Booklist