The Kudzu Queen (Paperback)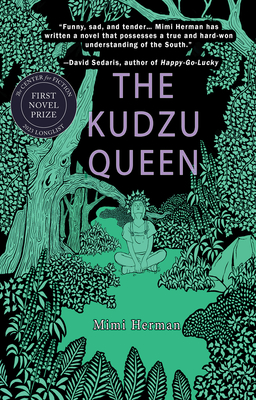 $19.95

Probably On Our Shelves Now! Wait for us to confirm availability.
Staff Reviews
---
This debut by Durham's Mimi Herman is so full of heart and soul it's near close to breaking the book's spine. It's the story of saucy 15 year old Mattie, her family, and the town they lived in when the Kudzu King came rolling into town during the summer of 1941 extolling the economic virtues of kudzu, the miracle weed. But miracles are rare and, as the town slowly finds out, the king isn't who he seems. Wonderfully written, with pitch perfect dialogue and a heroine who gives Scout a run for the money as too who is more endearing, makes this is a book you will want to share to with everyone you know.
— Pete
Description
---
"Funny, sad, and tender… Mimi Herman has written a novel that possesses a true and hard won understanding of the South." —David Sedaris, author of Happy-Go-Lucky
Fifteen-year-old Mattie Lee Watson dreams of men, not boys. So when James T. Cullowee, the Kudzu King, arrives in Cooper County, North Carolina in 1941 to spread the gospel of kudzu—claiming that it will improve the soil, feed cattle at almost no cost, even cure headaches—Mattie is ready. Mr. Cullowee is determined to sell the entire county on the future of kudzu, and organizes a kudzu festival, complete with a beauty pageant. Mattie is determined to be crowned Kudzu Queen and capture the attentions of the Kudzu King. As she learns more about Cullowee, however, she discovers that he, like the kudzu he promotes, has a dark and predatory side. When she finds she is not the only one threatened, she devises a plan to bring him down. Based on historical facts, The Kudzu Queen unravels a tangle of sexuality, power, race, and kudzu through the voice of an irresistibly delightful (and mostly honest) narrator.
About the Author
---
Mimi Herman is the author of A Field Guide to Human Emotions and Logophilia. She codirects Writeaways writing workshops in the United States and abroad, and is a Kennedy Center Teaching Artist. Mimi lives in a 1925 bungalow in Durham, North Carolina.
Praise For…
---
"Funny, sad, and tender… Mimi Herman has written a novel that possesses a true and hard won understanding of the South." —David Sedaris, author of Happy-Go-Lucky
"What a wonderful novel! Mimi Herman brings us a charming charlatan, a farming community at a major turning point, and the most appealing young heroine since Scout." —Lee Smith, Southern Book Critics Circle Award winner and New York Times best-selling author of The Last Girls
"A handsome devil pays a call to a community in North Carolina, and in this funny and moving novel by Mimi Herman, we see the result. The Kudzu Queen is about beauty, and familial love, and what we may owe to our friends and neighbors. This novel has both sweetness and suspense, and its cast of characters will stay in your memory long after you have closed this wonderful book." —Charles Baxter, PEN/Malamud Award winner and author of The Sun Collective
"
The Kudzu Queen
, Mimi Herman's lively novel, chronicles the history of the prolific Southern vine while also introducing the wonderful character, Mattie Watson and her family and community. People often joke about kudzu climbing and concealing everything, but in Mimi Herman's capable storytelling, it is just the opposite; she uncovers all that divides humans as well as what binds them together." —
Jill McCorkle, John Dos Passos Prize winner and New York Times best-selling author of Life After Life