Avocado Obsession: 50+ Creative Recipes to Take Your Love of Avocados to the Next Level (Paperback)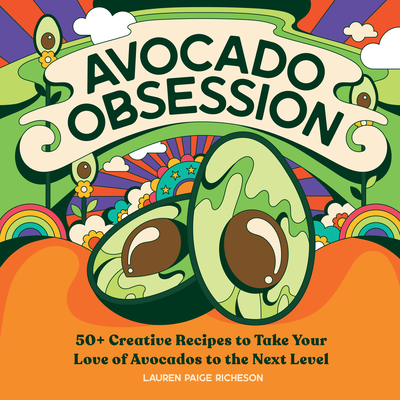 $12.99
Email or call for price.
Description
---
Go beyond guac and toast—55 amazing avocado recipes for every meal
Avocado aficionados, rejoice! Finally, an avocado cookbook dedicated entirely to the glamorous green fruit that's captured the hearts of so many.
Avocado Obsession
offers dozens of delicious recipes for avocado-centric sauces, dips, snacks, entrees, desserts, and beverages so you can feature your favorite food in every meal.
Explore infatuation-inducing recipes like the Very Verde Shakshuka, Prosciutto and Double-Cheese Pizza with Creamy Avocado Sauce, and Papaya and Avocado Panna Cotta. It'll be love at first bite with the unique dishes in this avocado cookbook!
This comprehensive avocado cookbook includes:
Ripeness remedies—Discover ways to ripen your under-ripe avocados and resuscitate the ones that have gotten a little too mushy with the practical pointers in this avocado cookbook.
Slicing and storing—Enjoy avocados without a trip to the ER with a step-by-step guide to cutting them, plus find pointers for successfully storing them for the utmost freshness.
Obsessing sustainably—This avocado cookbook goes above and beyond to include helpful info about when and where to buy avocados, so you can ensure you're making the most environmentally sound choice.
The only avocado cookbook you'll ever need,
Avocado Obsession
lets you feed your craving at every meal with 55 innovative, mouthwatering recipes.
About the Author
---
LAUREN PAIGE RICHESON is a recipe developer, photographer, lifestyle content creator, and the brains behind LPFEDME.com, where she crafts simple, healthy, and hearty recipes that are "one cup Julia Child + a dash of Beyoncé." Through her platform, she aims to encourage the belief that living well isn't a luxury, it's a lifestyle.
Praise For…
---
"If you're someone who only uses avocados for toast, this book will be a revelation! With an upbeat, encouraging voice, Lauren Paige shares 50+ doable, delicious recipes highlighting everyone's favorite green fruit." —Vallery Lomas, On-Air Host, Cookbook Author, and Blogger

"Lauren's easy-to-make, fun, and creative recipes just made it a lot easier for me and my family to eat more avocados. My young kids already love a bunch of the recipes, especially the creamy avocado ice pops. Anything that makes it easier for me to get my kids to eat healthier is a huge win." —Jared Koch, Founder and CEO of Clean Plates

"I've been following Lauren's amazing cooking skills for years online, and I'm excited to formalize this relationship through avocado mentorship and step up my daily avocado integration strategy. Additionally, since my son eats three avocados a day, this book is going to get a lot of use in my house." —Andrew Steinthal, Co-Founder & Chief Partnerships Officer at The Infatuation

"This is the book on avocados I never knew I needed! From interesting facts, useful avocado kitchen tips, to fun and unique recipes, Lauren has inspired me to approach avocados with creativity and appreciation." —Wendy Lopez, MS, RD, Co-founder of Food Heaven

"It's practically unheard of to Whole30 without avocado—and why would you want to? Make the most of your avocado obsession with Lauren's creative recipes, budget-friendly hacks, and signature wit." —Melissa Urban, Whole30 CEO and New York Times Bestselling Author