The Enigma Affair (Hardcover)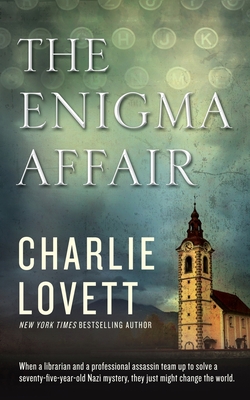 $26.99

Probably On Our Shelves Now! Wait for us to confirm availability.
Staff Reviews
---
This is like riding a roller coaster in the dark. There are the dizzying drops, the abrupt turns, but you can't see them coming. Patton Harcourt is a smalltown North Carolina librarian. She's also a former Special Ops intelligence officer who knows how to take care of herself and when she comes under fire from a couple of hired killers, well, she takes care of them and we're off to the races! All over the world we go as Patton, and a motley crew of partners she picks up along the way, follow clues to a secret organization that is seeking a horde of gold hidden by Heinrich Himmler in the quest to bring about the Fourth Reich. Secret codes, enigma machines, libraries filled with ancient arcana run throughout this book that is so reminiscent of early Ken Follett and just as enthralling. Give this a shot and I bet you will be turning the pages at a furious pace because this is one heck of a ride.
— Pete
Description
---
In this propulsive historical thriller from the New York Times bestselling author of Escaping Dreamland, a librarian and a professional assassin team up to solve a seventy-five-year-old Nazi mystery and stop a nefarious opponent from wreaking havoc on the world.
When small-town librarian Patton Harcourt comes under fire one morning while making profiteroles, she has no choice but to trust the mysterious assassin, Nemo, who shows up in her kitchen. Fleeing a pair of German thugs, the two form an unlikely alliance as they try to decipher a seventy-five-year-old message encoded by Nazis on an Enigma machine. Traveling to Bletchley Park in England, they enlist the aid of Patton's old flame, Ruthie Drinkwater, an expert on Enigma. The trio soon finds themselves on the run, pursued by both the police and Ingrid Weiss, a white supremacist trying to unlock the secret of Heinrich Himmler's research into alchemy. If Patton, Nemo, and their cohorts can survive a host of dangers--from trained killers to explosions to imprisonment--they might be able to prevent Weiss from acquiring untold wealth to promote her racist agenda.
In this fast-paced thriller with a thoroughly researched World War II background, a mismatched cadre of heroes, including an art historian, a museum docent, and a collector of Nazi artifacts, must work together to stop a ruthless and resourceful opponent. Racing across Europe, attempting to outfox Weiss and her associates at every turn, Patton and her team mount a complex operation. But can they withstand double crosses and dark secrets from Patton's military past to defeat Ingrid Weiss and discover the secret of Projekt Alchemie?