California Fever (Hardcover)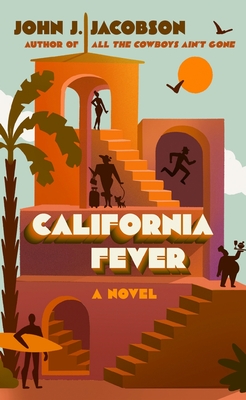 $26.99

Probably On Our Shelves Now! Wait for us to confirm availability.
Description
---
SoCal surfer Dolphin Smoote just wanted to earn quick dough for a date with the brown-eyed beauty ... what he got was G-men (and G-women), ghosts, and a Colt 45.
John Jacobson's California Fever is the compelling fusion of mystery, crime, and Southern California beach charm. Top surfer Dolphin Smoote gets more than he bargains for when he works up the nerve to ask out the brown-eyed beauty on a date. The search of quick coin without having to work will always lead a surfer to precarious places, and Dolphin is no exception. With the help of his lovable surfer crew who often have more to say about stylishness than anything else, Dolphin finds himself between conmen, ghosts, an impending storm from the coast of Mexico ... and still no money for a second date. Along the ride, Dolphin finds in himself capacity for storytelling that would make P. G. Wodehouse himself chortle with laughter.
From the author of All the Cowboys Ain't Gone comes this thrilling tale where a crime-novel writer becomes caught up in crimes, and an aspiring writer tries to outrun the crime in her bloodline--what could go wrong? Jacobson immerses the reader in the world of California's casual-radical surf culture, where radical stunts executed with the most casual air is a practiced form of art. In this world, rival surf clans goad each other on, upping the ante on stunts until mayhem looms. It looks like the storm brewing off the coast of Southern California just might disturb the tranquility of the beach.