I Don't Want to Go to School (Hardcover)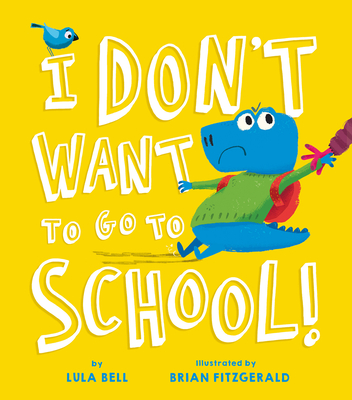 $17.99

Usually Ships Within a Week
Description
---
It's Mouse's first day of school. It's Dinosaur's first day of school. As each of them get ready for the first day of school, they definitely DON'T want to go! But when class begins, there is a very big surprise! A reassuring tale for those first-day-of-school jitters.

It's Mouse's first day of school, and she is so nervous. She can't eat her cereal, and she wonders what the children will be like. And it's Dinosaur's first day of school, too! He is so nervous that he can't eat his toast. He is afraid that the teacher won't like him. And the school looks so scary! But when Mouse and Dinosaur arrive at school, they're both in for a big, happy surprise!
About the Author
---
Lula Bell lives in the country so she can see the stars better. When she's not busy scribbling ideas for her stories, she makes obstacle courses for the squirrels in her garden.

Brian Fitzgerald is an award-winning, Irish illustrator who lives and works in the harbor town of Dún Laoghaire, Ireland. His earliest illustrations often featured the sheep and horses that could be seen from his childhood home - a farmhouse on the Curragh plains. Brian studied at Dublin's National College of Art and Design where he discovered his love for illustrating children's books.