Jim at the Corner (Hardcover)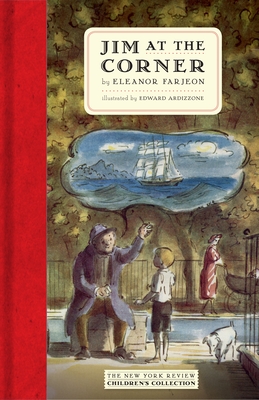 $15.95

Usually Ships Within a Week
Description
---
These seafaring tales begin on a street corner where Jim, a retired sailor, spends his days, passing the time telling a curious boy named Derry about life aboard his ship, the Rockinghorse. In the tradition of Robert Louis Stevenson's A Child's Garden of Verses and Rudyard Kipling's Just So Stories, Farjeon's tales of talking sea serpents and stew-eating chimpanzees bring the far near and turn ordinary weather into an astronomical adventure. With pen-and-ink illustrations by the maritime master artist Edward Ardizzone, Jim at the Corner is an old-fashioned adventure for the eyes and the ears.
About the Author
---
Eleanor Farjeon (1881–1965) grew up in England in a house filled with books, and she and her brothers enjoyed reading stories to one another and writing their own. In America, Farjeon's best-known work may be the hymn Morning Has Broken," later recorded by Cat Stevens, but in her native country she is beloved as the author of Elsie Piddock Skips in Her Sleep and Martin Pippin in the Apple Orchard. Farjeon was pleased when her story collection, The Little Bookroom won the prestigious Carnegie Medal, but she turned down another honor—Dame of the British Empire—explaining that she "did not wish to become different from the milkman." At her death, the Children's Book Circle established the Eleanor Farjeon Award in her honor.

Edward Ardizzone (1900–1979) was born in French Indochina (now Vietnam) and moved to England when he was five years old. In addition to his illustrations for works by Eleanor Farjeon, Dylan Thomas, and Robert Louis Stevenson, Ardizzone wrote and illustrated his own books, including the celebrated Little Tim series, which was inspired in part by his dreams of escape from boarding school.
Praise For…
---
"No one can tell stories like Eleanor Farjeon, and these do not disappoint...the book culminates in a satisfying final chapter that sees Derry surprising Jim with the perfect eightieth-birthday present. Imagination, adventure, and a host of animal encounters, humor, suspense, not to mention Ardizzone's scene-setting pen-and-ink vignette illustrations—this little book, first published in 1934, has oceans of appeal." —Martha V. Parravano, The Horn Book Magazine

"Like the award-winning The Little Bookroom, Eleanor Farjeon's Jim at the Corner is a collection of loosely related stories, perfect for reading aloud. This is a good book for grandfathers—in fact for any relatives of youngsters whose constant plea is, "Tell us a story.". . . Jim is an old-fashioned character with a repertoire of gentle humorous fantasies, and youngsters are likely to be back as regularly as Derry for more of these tales of magic islands in the fog and of rooks with a taste for Little Boy Pie."
—The New York Times

"It is certain that when the history of children's literature in our day is written Eleanor Farjeon will be one of its most important figures." —Eileen H. Colwell

"[An] endearing tale by two celebrated collaborators." —Publishers Weekly