A Murder in Time: A Novel (Kendra Donovan Mystery Series) (Paperback)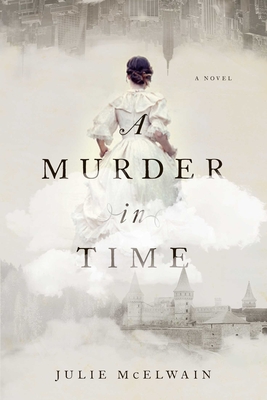 Other Books in Series
This is book number 1 in the Kendra Donovan Mystery Series series.
Description
---


When brilliant FBI agent Kendra Donovan stumbles back in time and finds herself in a 19th century English castle under threat from a vicious serial killer, she scrambles to solve the case before it takes her life—200 years before she was even born.

Beautiful and brilliant, Kendra Donovan is a rising star at the FBI. Yet her path to professional success hits a speed bump during a disastrous raid where half her team is murdered, a mole in the FBI is uncovered and she herself is severely wounded. As soon as she recovers, she goes rogue and travels to England to assassinate the man responsible for the deaths of her teammates.

While fleeing from an unexpected assassin herself, Kendra escapes into a stairwell that promises sanctuary but when she stumbles out again, she is in the same place - Aldrich Castle - but in a different time: 1815, to be exact.

Mistaken for a lady's maid hired to help with weekend guests, Kendra is forced to quickly adapt to the time period until she can figure out how she got there; and, more importantly, how to get back home. However, after the body of a young girl is found on the extensive grounds of the county estate, she starts to feel there's some purpose to her bizarre circumstances. Stripped of her twenty-first century tools, Kendra must use her wits alone in order to unmask a cunning madman.
About the Author
---
Julie McElwain has freelanced for numerous publications from professional photography magazines to those following the fashion industry. Currently, Julie is West Coast Editor for Soaps in Depth, a national soap opera magazine covering the No. 1 daytime drama, The Young and the Restless. Her other Kendra Donovan mysteries—A Murder in Time, A Twist in Time, Caught in Time, and Betrayal in Time—are also available from Pegasus Crime. Julie lives in Long Beach, CA.
Praise For…
---
* A Top 10 Pick for April by LibraryReads * 

The story is difficult to put down, and Kendra's character is well written. The romance—which both parties try to avoid—is believable. And Kendra's decision at the end is believable, as well. This is a great choice for a book club or for anyone who enjoys a mystery with many suspects and some heart-rending scenes.

This first novel is absolutely captivating and will appeal to readers of fiction, mystery, and romance. Expect to stay engaged until the final page. Author, a sequel, please!

A vivid setting, interesting characters, sustained suspense, and even a hint of romance make this thriller hard to put down for long...A Murder in Time is a very enjoyable read that paints a vivid picture of how remarkably the world has changed over the past 200 years.


There's nothing old-fashioned about Julie McElwain's daring debut Murder in Time. As FBI agent Kendra Donovan navigates crime scenes from two hundred years in the past, it's hard not to root for her ingenuity and bravado. Who needs DNA to catch a killer? McElwain offers a wickedly entertaining tale of two worlds, combining Jane Austen-worthy intrigue with Alias-style action. This smart book is sure to hook readers from any era.
— Erica Wright

The time-travel element is believable enough to keep us going, and the story is solidly constructed. Overall it's an entertaining genre-bender with a clever gimmick. The ending pretty much cries out for a sequel, too.

Julie McElwain writes like an angel, but it is a devil she chases through the halls of time in this edge-of-the-seat thriller. I was instantly engaged. This is a taut thriller written by a pro. Every page holds a new twist. Prepare for a sleepless night when you pick up this beauty.
— Carolyn Haines, author of Bone to be Wild

Pitting the skills of a twenty-first century FBI agent against the evil of a nineteenth century English murderer, this novel is a brilliantly imaginative and riveting read.
— S. D. Sykes, author of Plague Land

It's amusing to watch Kendra pit her 21st-century knowledge, without the equipment, against the limited resources of the early 19th century. The parts in the past are interesting, full of tension and, even for this long book, a page-turner.