Fox Hunter: A Charlie Fox Thriller (Charlie Fox Thrillers) (Paperback)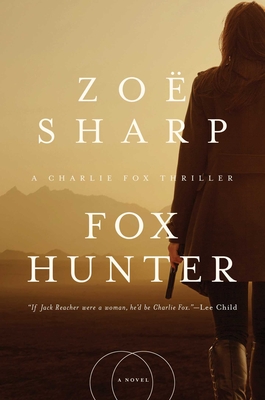 $15.95
Email or call for price.
Staff Reviews
---
You know you're doing something right when Lee Child writes an intro for your books (not this particular one but the previous one) and he's right when he says "If Jack Reacher were a woman, he'd be Charlie Fox." She's ex-military turned body guard and someone you don't want to mess with, though if she's your friend you have a friend for life. These are hard hitting, fast paced, yet smart novels that reveals an intelligence that raises Charlie above the vast majority of those in what I call the Rock'em Sock'em blow them up business, Jack Reacher included.
— Pete
Description
---
In the latest novel in this energetic series, ex-special forces soldier Charlie Fox finds herself on a mission to the Iraqi countryside to track down a missing comrade-in-arms.

Special forces soldier-turned-bodyguard Charlotte "Charlie" Fox can never forget the men who put a brutal end to her military career, but a long time ago she vowed she would not go looking for them.

Now she doesn't have a choice.

Her boss Sean Meyer is missing in Iraq, where one of those men was working as a private security contractor. When the man's butchered body is discovered, Charlie fears that Sean may be pursuing a twisted vendetta on her behalf.

Charlie's "close protection" agency in New York needs this dealt with—fast and quiet—before everything they've worked for goes to ruins. They send Charlie to the Middle East with very specific instructions: Find Sean Meyer and stop him—by whatever means necessary.

At one time Charlie thought she knew Sean better than she knew herself, but it seems he's turned into a violent stranger. Always ruthless, is he really capable of such savage acts of slaughter?

As the trail grows ever more bloody, Charlie realizes that she is not the only one after Sean and, unless she can get to him first, the hunter may soon become the hunted.
About the Author
---
Zoë Sharp, the author of nine novels in the Charlie Fox series of thrillers, spent most of her formative years living on a catamaran on the northwest coast of England. She now lives in Cumbria.
Praise For…
---
Charlie is a highly skilled killer, well aware of her capability for violence, with a moral underpinning that adds to her complexity, particularly here. Gritty, hard-hitting, all-around outstanding crime fiction.

Sharp's series featuring the troubled and violent Charlie stands out for its knowledgeable and convincing situations and well-crafted action sequences. When Charlie talks tactics, weapons, or reconnaissance, it rings true. Sharp writes her as emotionally disillusioned and vulnerable but never helpless. Nonstop action and an intricate plot weave together to create another thrill ride for fans of Sharp's heroine.

The phrase 'strong female character(s)' crops up a lot in reviews of crime and thriller titles and this is still seen as sufficiently uncommon as to be worth commenting on when an author gets it right. And sadly, there are too many times when authors don't. But there's no danger of Zoe Sharp falling short. Sharp's action scenes remind me of the incomparable and ever-inventive Peter O'Donnell.

The only blurb on the front cover, from Lee Child, captures her completely: 'If Jack Reacher were a woman, he'd be Charlie Fox.' What more can—or needs to—be said? Highly recommended.
— Ted Hertel, Deadly Pleasures