Last Girl Gone: A Laura Chambers Novel (Hardcover)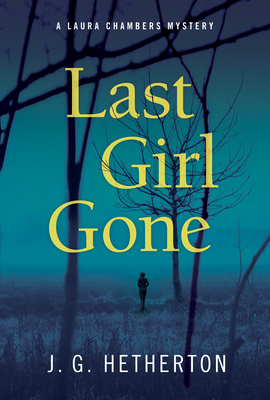 $26.99
Email or call for price.
Other Books in Series
This is book number 1 in the A Laura Chambers Novel series.
Description
---
A Sun-Sentinel Top Debut Mystery of 2018

"Last Girl Gone is...your new favorite procedural."—Bustle

This pulse-pounding series debut is the next obsession for fans of Julia Keller and David Bell, and readers of unflinching thrillers.

Sometimes, the journey home is the most harrowing. And it's every parent's worst nightmare.

Investigative journalist Laura Chambers is back in her tiny hometown of Hillsborough, North Carolina, the one place she swore never to return. Fired from the Boston Globe, her career in shambles, she reluctantly takes a job with the local paper. The work is simple, unimportant, and worst of all, boring—at least until a missing girl turns up dead, the body impeccably clean, dressed to be the picture of innocence.

Years earlier, ten-year-old Patty Finch left home and never made it back. But for the people of Hillsborough, Patty was just the beginning. Child after child disappeared, a reign of terror the town desperately wants to forget. Now that terror has returned to seize another girl. And another. And another.

This is the story Laura's been waiting for—her one last chance to get back onto the front page. She dives deeper into a case that runs colder by the second, only to discover the truth may be far closer to home than she could have ever imagined. Powerful, intricate, and tense, Last Girl Gone will have you looking over your shoulder long after the last page.
About the Author
---
J. G. Hetherton was in raised in rural Wisconsin, graduated from Northwestern University, and lived in Chicago for the better part of a decade. Along the way to his first novel, he dabbled in many different day jobs before moving to North Carolina for a girl. They live in Durham, North Carolina with their twin daughters, and when he's not writing, you can find him on the hiking trail or sitting down with a good book.
Praise For…
---
Praise for Last Girl Gone:
"Last Girl Gone is one of the most surefooted, accomplished debut thrillers I've read in ages. Readers are going to fall hard for J. G. Hetherton. He's a terrific talent and makes the rest of us look bad. It would be a shame if something were to happen to him..."
—Chelsea Cain, New York Times bestselling author

"J. G. Hetherton's Last Girl Gone is a stunning debut that takes the reader down a dark and vivid rabbit hole. The twists and turns come fast and furious, and the novel's protagonist, journalist Laura Chambers, is a character I want to read more about. Swiftly paced, riveting, poignant and real, this book shows you can go home again...but you really may not want to."
—David Bell, bestselling author of Bring Her Home

"Last Girl Gone doesn't read like the work of someone new to suspense. Not only has J. G. Hetherton created an engaging and interesting protagonist who discovers terrible secrets from the past and an implacable evil surviving in the present, he has crafted a riveting story full of twists and shocks. Perfectly paced and plotted from its dramatic beginning to its twist ending, Last Girl Gone is a compulsive read that will keep the reader turning pages."
—Christine Carbo, award-winning author of The Weight of Night

"Forget sleep. Forget everything. No one will pry this book out of your hands until the last diabolical twist."
—Brian Freeman, bestselling author of The Night Bird

"Chilling, creepy, atmospheric...[A] rare debut novel that reads like the work of a seasoned pro. [Hetherton's] tale of murder, cruelty and small-town psychopathology grips onto you hard and fast and doesn't ever let go...Outstanding...Not to be missed!"
—Owen Laukkanen, award-winning author of The Forgotten Girls

"One hell of a twisted baddie, all wrapped up in [a] fantastic premise, fantastic writing, and one hell of an ending. I read it in a day."
—Paul Cleave, international bestselling author of Trust No One

"The Hillsborough setting will appeal to local readers who might recognize favorite haunts scattered throughout."
—News and Observer

"Captivating [and] gripping...[There's a] deepness with which Hetherton has filled his debut with familiar characters. You can't help but like [them]...[Last Girl Gone] will keep you entertained and guessing all the way through [with] twists and turns...This is one worth reading."
—News of Orange County

"Memorable [and] compelling...Fans of James Ziskin's Ellie Stone will welcome this ambitious investigative reporter."
—Library Journal

"A promising debut...Laura's work with now-retired sheriff Donald Rodgers gives the plot heft and illustrates how sharp investigators span generations...Hetherton delivers a realistic look at contemporary newsroom culture that bodes well for future installments."
—Publishers Weekly

"This diabolical debut thriller offers more twists than winding country road and is sure to keep the reader on tenterhooks. Past secrets and evil are unlocked bringing home a chilling and unexpected conclusion. J. G. Hetherton is an author to watch."
—New York Journal of Books

"A damn fine thriller. Beyond character, cultural resonance, and a propulsive premise, [Hetherton] unleashes twists and turns with the finesse of a pro and proffers an ending that's equal parts surprising and superlative. If Last Girl Gone is any indication, there are exceedingly great things to come."
—Criminal Element

"Last Girl Gone had me guessing to the very end...An overall thrilling story with a powerful main character. I will be waiting for Laura Chambers #2."
—Seattle Book Review

"A strong psychological thriller...It may scare you silly, but it's riveting and the story will stay with you for a long time to come. A compelling and well-written mystery, this could very well be the one book to take to the beach this summer."
—MyShelf.com