The Last Songbird (A Pacific Coast Highway Mystery #1) (Paperback)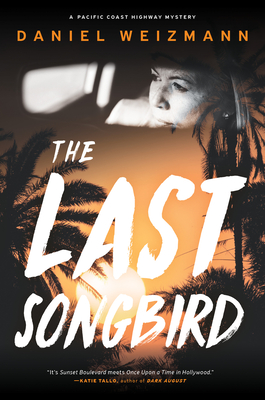 $17.99

Probably On Our Shelves Now! Wait for us to confirm availability.
Other Books in Series
This is book number 1 in the A Pacific Coast Highway Mystery series.
Description
---
"Weizmann's music bona fides inform the novel's tone and purpose, but it's equally clear how steeped he is in the styles of detective fiction past and present...This is a story of murder, but also of vivid life." -- The New York Times

"A confident, polished storyteller who honors his influences and while weaving his amateur detective through a complex mystery that will keep you turning the pages until you've reached the haunting finale. A sharp, memorable debut." -- Alex Segura, bestselling author of Secret Identity

A gritty, fast-paced neo-noir that explores the consumptive nature of fame, celebrity, and motherhood through the lens of a driver lost in the gig economy.

A struggling songwriter and Lyft driver, Adam Zantz's life changes when he accepts a ride request in Malibu and 1970s music icon Annie Linden enters his dented VW Jetta. Bonding during that initial ride, the two quickly go off app— over the next three years, Adam becomes her exclusive driver and Annie listens to his music, encouraging Adam even as he finds himself driving more often than songwriting.

Then, Annie disappears, and her body washes up under a pier. Left with a final, cryptic text— 'come to my arms'— a grieving Adam plays amateur detective, only to be charged as accomplice-after-the-fact. Desperate to clear his name and discover who killed the one person who believed in his music when no one else in his life did, Adam digs deep into Annie's past, turning up an old guitar teacher, sworn enemies and lovers, and a long-held secret that spills into the dark world of a shocking underground Men's Rights movement. As he drives the outskirts of Los Angeles in California, Adam comes to question how well he, or anyone else, knew Annie— if at all. 

The Last Songbird is a poignant novel about love, obsession, the price of fame and the burden of broken dreams, with a shifting, twisting plot that's full of unexpected turns.
About the Author
---
Daniel Weizmann is a writer and editor whose work has appeared in the Los Angeles Times, Billboard, the Guardian, AP Newswire, and more. Under the nom de plume, Shredder, Weizmann also wrote for the long running Flipside fanzine, as well as LA Weekly, which once called him "an incomparable punk stylist." Most recently, Weizmann co-authored Game Changer by Michael Solomon and Rishon Blumberg (Harper Leadership, 2020). He lives in Los Angeles, California.
Praise For…
---
"Weizmann's music bona fides inform the novel's tone and purpose, but it's equally clear how steeped he is in the styles of detective fiction past and present...This is a story of murder, but also of vivid life." -- The New York Times

"A moving neonoir cruise through Los Angeles…In hard-boiled language with an added layer of humor and psychological insight, Weizmann tells a tale reliant on the thrill, and pathos, of popular music... At turns thrilling and poignant, this is fine, thoughtful entertainment." -- Kirkus, STARRED review

"Failed dreams, unfulfilled ambition and past glory swirl through the character-driven The Last Songbird...Weizmann adds an intriguing look at the music industry and the personalities it attracts, showing both its past and current vibe...Readers will want to buckle up their seatbelts for Addy Zantz's next drive on the Pacific Coast Highway." --Oline Cogdill, South Florida Sun-Sentinel

"Weizmann seamlessly weaves vibrant L.A. music industry personalities into the suspenseful plot. This tense whodunit deserves a sequel." -- Publishers Weekly

"The Last Songbird is an enthralling and often deeply amusing read; it's a novel that puts a 2020s spin on LA noir in the same way that Robert Altman's The Long Goodbye gave Raymond Chandler a sun-drenched '70s twist." --The Forward

"The Last Song­bird takes the read­er on a car ride through the dark and lone­ly streets of Los Angeles as the dri­ver tries to find the mur­der­er of a pop icon and dis­cov­er who she real­ly was... Thanks to [Weizmann's] incred­i­ble knowl­edge of pop music, he has writ­ten a ter­rif­ic debut mys­tery nov­el that looks like the begin­ning of a series." --The Jewish Book Council

"Even if you're not clued into the lore of South Bay punk, The Last Songbird is a ripping-good story that is also a humorous but heartfelt rumination on what it means to make art the world doesn't value. The set-up ensures that the story is always moving, the characters always going places. The Last Songbird is everything you want from a contemporary mystery and the novel even bears an affinity to Thomas Pynchon's Inherent Vice." --Jim Ruland for Razorcake

"a story of broken, damaged families and long-held secrets that's straight out of a Ross Macdonald novel. THE LAST SONGBIRD is also an incisive examination of toxic masculinity..." --Bookreporter

"Props to Daniel Weizmann for respecting older women as artists and for his clear dedication to writing about music in an evocative and intelligent manner." -- CrimeReads

"The Last Songbird is the kind of novel that sneaks up on you. Before you know it, what began as an ordinary run-out written in a pedestrian style soon starts to show flashes of street-level lyricism and incisiveness...one of the most entertaining crime novels I've read for some time." --On the Seawall

"This debut mystery has a good storyline... worth the read." -- Library Journal

"The novel ends on a more positive note than the common clenched-tooth stoicism of traditional noir. The two sexes are not left in a state of wary antagonism...This Songbird may be the last but one can certainly hope it is not the end of Adam." --Reviewing the Evidence

"Weizmann's updated L.A. noir storytelling is pitch perfect, so this quirky investigator stands in for each of us, committing in a fumbling fashion to doing what's right even though we're not equipped for the journey." —New York Journal of Books

"The Last Songbird is my favorite kind of neo-noir - blending the bright lights of celebrity and fame with the primal urges and darkness that come with any good noir novel. Weizmann is a confident, polished storyteller who honors his influences while weaving his amateur detective through a complex mystery that will keep you turning the pages until you've reached the haunting finale. A sharp, memorable debut." -- Alex Segura, author of Secret Identity

"The Last Songbird is rock noir at its best.  It sneaks up on you like a hook line, and when it's over, you can't get it out of your head. Hapless hero/songwriter Addy Zantz is witty, gritty and determined to solve the murder of his idol and muse, the legendary rock star, Annie Linden. Daniel Weizmann's L.A. is half Warren Zevon and half Raymond Chandler. Bravo." -- T. Jefferson Parker, New York Times bestselling author

"Weizmann skillfully crafts a gritty, unstoppable detective thriller rife with sleaze and sea foam and broken dreams set against a crumbling LA backdrop. It's Sunset Boulevard meets Once Upon A Time in Hollywood." --Katie Tallo, author of Dark August

"Weizmann's fiction is informed by his past as a highly influential and precocious young veteran of the punk scene, as well as by his lifelong passion for music, his career in journalism and his love of noir and Los Angeles. This book is funny, poetic, gripping, and beautifully tackles themes of creativity, fame and family." --Francesca Lia Block, author of Dangerous Angels: the Weetzie Bat Books

"A terrific ride through the troubled, tangled lives surrounding a murdered LA music legend, told with the energy of the Germs, the urgency of X, with a captivating narrator who drives headlong in crime-fueled pursuit." --Gregory Galloway, author of Just Thieves

"Propulsive and pitch perfect, The Last Songbird is a smart, fast-paced read about the costs of fame to both the spectacularly gifted and those left dazzled and dazed in their wake. In crackling prose, Daniel Weizmann masterfully takes the reader through the midnight precincts of LA to tell a gripping story of human fallibility – of triumph and failure, generosity and greed, love and disappointment – and the drive, against all odds, to set things right. A stunning debut." --Joan Leegant, author of An Hour in Paradise

"Daniel Weizmann's The Last Songbird is a gripping, fast-paced, neo-noir mystery whose intriguing characters populate the streets of Los Angeles.  When a '70's music icon suddenly disappears, her driver and friend, begins a frantic search that leads him in pursuit of the truth.  In turn, he will discover just as much about himself.  Weizmann has written a smart, unforgettable, page-turner of the best kind." -- Gail Tsukiyama, author of The Color of Air

"Take everything you know about the noir detective and chuck it out the window of a moving car on the Pacific Coast Highway. Weizmann's Adam Zantz is a uniquely relatable amateur sleuth. His flaws and, more importantly, his empathy make him a Lew Archer for the millennial age. Fortunately, The Last Songbird only feels like the beginning." -- Kyle Decker, author of This Rancid Mill