Why We Swim (MP3 CD)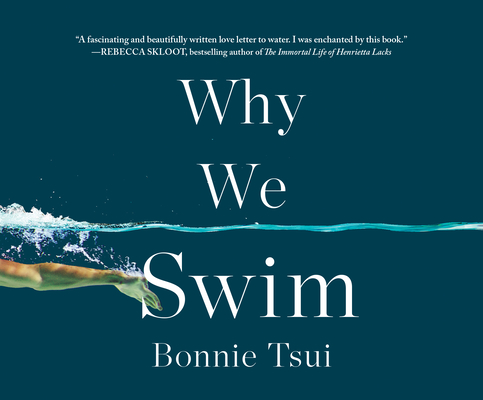 Email books@fearrington.com or call for price (919) 542-3030
Staff Reviews
---
This is the kind of book that will appeal to those who loved Born to Run by Chris McDougall, except it takes place in water as opposed to dry land.
This fascinating read encompasses some history (from cave paintings and evidence of swimming in the now non-existent green lakes of the Sahara) and absorbing stories about swimmers willing or not.
Ms. Tsui also tackles why we swim and  swimming as a force for healing. So whether or not you plan on jumping in a pool, lake or ocean this summer, take this along for entertainment.
— Keebe
Description
---
Humans, unlike other animals that are drawn to water, are not natural-born swimmers. We must be taught. Our evolutionary ancestors learned for survival; now in the twenty-first century, we swim in freezing Arctic waters and piranha-infested rivers to test our limits. Swimming is an introspective and silent sport in a chaotic and noisy age; it's therapeutic for both the mind and body; and it's an adventurous way to get from point A to point B. It's also one route to that elusive, ecstatic state of flow. These reasons, among many others, make swimming one of the most popular activities in the world. Why We Swim is propelled by stories of Olympic champions, a Baghdad swim club that meets in Saddam Hussein's palace pool, modern-day Japanese samurai swimmers, and even an Icelandic fisherman who improbably survives a wintry six-hour swim after a shipwreck. New York Times contributor Bonnie Tsui, a swimmer herself, dives into the deep, from the San Francisco Bay to the South China Sea, investigating what it is about water--despite its dangers--that seduces us, tempting us to come back to it again and again.