Castle in The Air (Paperback)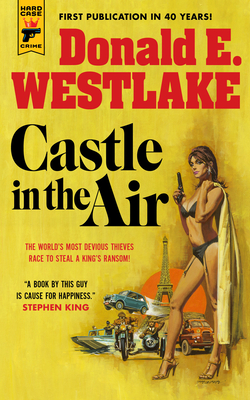 $12.95
Email or call for price.
Description
---
In the funniest crime caper ever from Grandmaster Donald Westlake, four teams of international thieves race through Paris to steal a king's ransom from the walls of a disassembled castle.



A DIRTY DOZEN WITH A FRENCH CONNECTION
 
When four groups of international heist artists team up to pull off the theft of the century – stealing an entire castle, and the treasure hidden in its walls –what could possibly go wrong? Well, consider this: none of the master thieves speak each other's languages... and no one knows precisely where the loot is stashed... and every one of them wants to steal it all for him or herself. It's MWA Grand Master Donald E. Westlake at his wildest, a breathless slapstick chase through the streets of Paris only one step ahead of the law – and each other.
About the Author
---
Donald E. Westlake is widely regarded as one of the great crime writers of the 20th century. He won three Edgar Awards and was named a Grandmaster by the Mystery Writers of America. Many of his books have been made into movies; Westlake also wrote the screenplay for The Grifters for which he received an Academy Award nomination.
Praise For…
---
"This fast-moving, relatively short caper novel is worth your time, attention and money . . . Westlake's cinematic narrative ability is on full display here."
—BookReporter

"So much enjoyment to be had from reading this caper . . . a cross between The Italian Job and Ocean's Eleven"
—Crime Fiction Lover

"An exciting adventure all the way through, with laughs on every page . . . another great entry to the Hard Case Crime collection."
—Cinema Sentries