How Cities Work (How Things Work) (Hardcover)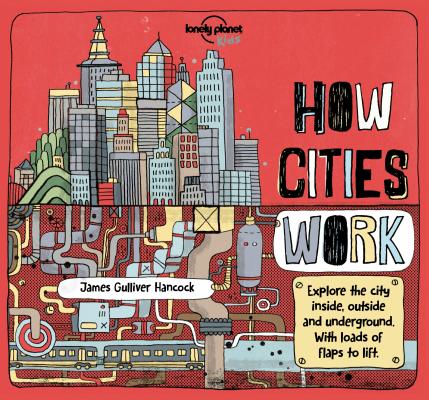 $18.99
Usually Ships in 1-5 Days
Description
---
Get ready to explore the city in a whole new way. This innovative book for younger readers is packed with city facts, loads of flaps to lift, and unfolding pages to see inside buildings and under the streets.
Children aged 5+ can learn about skyscrapers, subway systems and stinky sewers. Discover where people live and peek behind closed doors to see what''s going on in houses and apartments, or why not find out about what goes on underneath the streets you walk on every day?
Each page is stylishly illustrated by James Gulliver Hancock, creator of the All The Buildings That I''ve Drawn So Far series (Universe Publishing) and there are loads of quirky details to spot. How many giant cowboy hats can you find through the book?
Created in consultation with Jill Sterrett, lecturer with the department of Urban Planning at the University of Washington.
Contents :
The birth of a city
In and out of the city
City living
Build, build, build!
High-rise life
Green spaces
Going underground
City hall
Emergency services
Recreation and culture
Night and day
Cities of the future
About Lonely Planet Kids: From the world''s leadi(more...)
Praise For…
---
"It's Richard Scarry grows up and meets urban planning. "—Shelf Awareness

"Likely to prompt young city dwellers to a broader understanding of their environment."—Kirkus Reviews

"The detail in the illustrations and text makes this an attractive offering to children."—School Library Journal

"This clever guide to the inner workings of a big city will provide long and lasting activity to the young and inquisitive mind."—Story Monsters Ink

"This upbeat and thorough guide to what makes a city a city lets readers peek inside buildings, vehicles, and various attractions."—Publishers Weekly

"Using a series of flaps and gatefolds, How Cities Work gets to the heart of the intricate functions of metropolitan areas. To the casual observer, cities can look and sound like chaos, but in this interactive book, young readers learn about the interdependent systems that make cities hum, including transportation, utilities, housing, and sanitation...Delightfully intricate illustrations invite readers to notice new, small details with every look...Complex STEM topics share space with fun trivia in this interactive and informative science and geography resource."—Booklist

"With whole pages that fold out and lots of smaller, subsidiary foldouts, the book invites children ages 3-7 to explore construction sites, urban green spaces and the anatomy of an apartment building."—Wall Street Journal

"Likely to prompt young city dwellers to a broader understanding of their environment."