Five Decembers (Hardcover)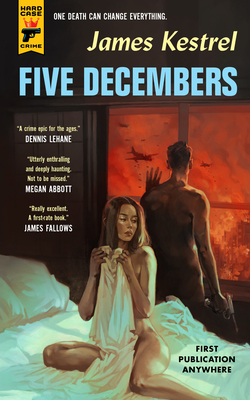 Staff Reviews
---
After having already finalized my Beltie Prize nominee list, I had to go ahead and read this after my sales rep passed it on to me from the trunk of their car (my first in-person rep visit in two years!) After handing it to me she then had the nerve to adamantly demand that it be added to the list. Of course I acquiesced after discovering what a great cinematic story it was. Starting with a double murder in Honolulu just before Thanksgiving 1941 (which eventually took the investigating Detective to Hong Kong where he arrived on December 8th, or December 7th in Hawaii...) and ending Five Decembers later. Utterly enthralling, there's a reason why this is being added to The Beltie List at the last minute.
— Pete
Description
---
Winner of the 2022 Edgar Award for Best Novel

"War, imprisonment, torture, romance…The novel has an almost operatic symmetry, and Kestrel turns a beautiful phrase."
New York Times

Five Decembers is a gripping thriller, a staggering portrait of war, and a heartbreaking love story, as unforgettable as All the Light We Cannot See.

nominated for Best Novel in the 2022 EDGAR AWARDS

NOMINATED FOR BEST THRILLER IN THE 2022 BARRY AWARDS

FINALIST FOR THE HAMMETT PRIZE 2021

"Read this book for its palpitating story, its perfect emotional and physical detailing and, most of all, for its unforgettable conjuring of a steamy quicksilver world that will be new to almost every reader."
Pico Iyer

December 1941. America teeters on the brink of war, and in Honolulu, Hawaii, police detective Joe McGrady is assigned to investigate a homicide that will change his life forever. Because the trail of murder he uncovers will lead him across the Pacific, far from home and the woman he loves; and though the U.S. doesn't know it yet, a Japanese fleet is already steaming toward Pearl Harbor.

This extraordinary novel is so much more than just a gripping crime story—it's a story of survival against all odds, of love and loss and the human cost of war. Spanning the entirety of World War II, FIVE DECEMBERS is a beautiful, masterful, powerful novel that will live in your memory forever.

About the Author
---
Formerly a bar owner, a criminal defense investigator, and an English teacher, James Kestrel is now an attorney practicing throughout the Pacific. His writing has won advance praise from Stephen King, James Patterson, Dennis Lehane, Lee Child, Meg Gardiner, James Fallows, Pico Iyer, and numerous other authors. A sailor and world traveler, Kestrel has lived in Taiwan, New Orleans, and a West Texas ghost town. He lives in Volcano, Hawaii.
Praise For…
---
PRAISE FOR FIVE DECEMBERS BY JAMES KESTREL, FINALIST FOR THE EDGAR, HAMMETT AND BRAM STOKER AWARDS

"Hard-as-nails mystery/suspense/noir set against a backdrop of war in the Pacific. One hell of a good story." - Stephen King

"War, imprisonment, torture, romance…The novel has an almost operatic symmetry, and Kestrel turns a beautiful phrase." -The New York Times, Best Mystery Novels of 2021

"Lyrical, violent, intelligent, breathtaking: this is an unforgettable book." - Wall Street Journal

"This is hardboiled fiction at its best: an exceptional tale, filled with emotion, plenty of surprises, and enough violence to satisfy the most bloodthirsty reader." -Library Journal, Starred Review

"Vivid, richly detailed... This tale of love, courage, hardship, and devotion is unforgettable"
Publishers Weekly, Starred Review and Editor's Choice

"Magnificent... a transcendent love story and a gripping thriller... it works superbly... plot strands come together exquisitely in a truly breathtaking finale that is unbearably violent one moment and tearfully tender the next... Give this special novel the word of mouth it so richly deserves."
-Booklist, Starred Review & Booklist's Best Books of the Year

"It's never easy to challenge the expectations of a beloved genre successfully, but Kestrel has done just that, growing an adventure story far beyond the expectations of a noir murder mystery."
Los Angeles Review of Books

"Kestrel's expertly clipped descriptive passages and dialogue bring his spacious canvas into razor-sharp focus." -Kirkus Reviews

"A gripping, resonant neo-noir odyssey" -New York Magazine

"A great blend of crime, war, and history." The New York Post

"2021 was a memorable reading year, and I can't think of a better way to close it out than with this unique mystery, which will engage you from start to finish." - Bookreporter

"I doubt I'll read a more satisfying novel this year... This book is the work of a true craftsman."
-Morning Star

"A well-written and suspenseful crime thriller" - Washington Times

"Five Decembers is absolutely terrific. I can't remember the last novel I read that was so beautifully immersive. A joy to read." -Lou Berney
  
"Five Decembers is really excellent. A first-rate book." -James Fallows 

"A crime epic for the ages." -Dennis Lehane

"What a story! Totally engrossing, beautifully written, sometimes shocking and very moving."
 -Elly Griffiths

"Five Decembers is a masterpiece.  You'll stay up all night with this one.  It's unique and it's terrific."
 -Eric Redman, author of The Dance of Legislation and Bones of Hilo

"Utterly enthralling. Wildly ambitious and deeply haunting, Five Decembers drops you in the middle of a dark noir dream full of heat, loss and memory. Not to be missed" -Megan Abbott

"James Kestrel evokes the Hawaii, the Hong Kong and the Tokyo of the 1940s with an urgency, a vividness—a passion—few of us can have met before. Read this book for its palpitating story, its perfect emotional and physical detailing and, most of all, for its unforgettable conjuring of a steamy quicksilver world that will be new to almost every reader." -Pico Iyer

"The definition of a page-turner…  an emotionally charged crime novel shaped by the tragic years of a world at war, a story that is relentlessly hopeful in the face of unrequited devotion and doomed love."
-Every Read Thing

"Loved every page. A brilliant wartime noir that entangles you in a mystery while transporting you to a different age." - Mason Cross

"I was completely blown away by Five Decembers. It is one of best novels I have read about the twilight days of empire, its protagonist getting caught up in the maelstrom of the British, Japanese and European empires dragging themselves into oblivion. " -Steven Powell

"One of the most stunning and brilliant modern novels I have read." - Peter Cozzens

"What a wonderful book Five Decembers is! One of the best hardboiled mysteries I've read in years, and an epic war story and love story to boot." - James Reasoner

"A gripping, taut, magnificent saga unlike anything we've ever read in our life. No understatement there. It is a work of power, brilliant plotting, heart and grace" -Pulp Fiction Reviews

"Everything about this book is terrific... If I were to recommend just one 2021 title for you to read, it would be this one. It's that good." -Deadly Pleasures

"Unravels much like a traditional mystery, albeit a superior one.... as much a love story as a mystery, if not more...an undoubted success."  -CrimeFictionLover

"As James Ellroy might say, 'Don't pay the rent. Buy this book!'" --Steve Powell, The Venetian Vase

"Five Decembers feels like it could have been written during the golden age of noir… hugely satisfying." - SFBook Review

"An electrifying thriller set in the Pacific theatre of World War II" - The Straits Times

"'Five Decembers' is a police procedural, a war story, a cultural history, a thriller, a romance, a tourist's guide to Honolulu. It's everything. It's too much. But so what? This book is awesome. So's the writing. Kestrel's lean prose and cinematic eye makes an impossible story seem probable, even likely." - Expressed


ACCLAIM FOR THE AUTHOR'S EARLIER WORK:  

"Suspense that never stops."
       James Patterson 

"An electrifying read."
        Stephen King