Two Steps Onward (Paperback)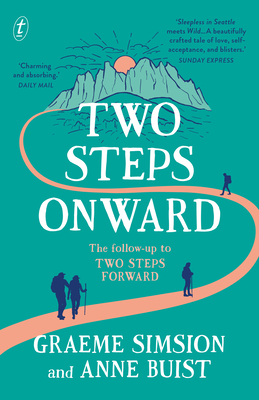 $14.95

Probably On Our Shelves Now! Wait for us to confirm availability.
Description
---
Internationally bestselling husband-and-wife writing team, Graeme Simsion and Anne Buist return with another smart, romantic adventure set on another of Europe's incredible pilgrimages. TWO STEPS ONWARD is the wise and witty follow-up to TWO STEPS FORWARD. It's about helping the people you love, and knowing when to let go. Figuring out what you really want in life. And seizing your chances, before it's too late.
Three years after life got in the way of their long-distance relationship, Californian artist Zoe and English engineer Martin have an unexpected opportunity to reunite: a second chance to follow in the footsteps of pilgrims in Europe. This time, they won't be walking the famous Camino de Santiago to north-west Spain but the less-travelled Chemin d'Assise and Via Francigena to Rome, along the mountainous paths from rural France. And rather than each setting off solo, they will accompany Zoe's old friend Camille--who, despite her life-threatening illness, insists she will walk the whole 1000 miles to seek an audience with the Pope--and her not-so-ex-husband, Gilbert, who sees the trip as a gourmet tour.
Then Bernhard, Martin's young nemesis from the previous trek, shows up, along with Martin's daughter, Sarah, who is having a quarter-life crisis and doesn't exactly hit it off with Zoe...
About the Author
---
Graeme Simsion Anne Buist are the authors of Two Steps Forward. Graeme is the internationally bestselling author of The Rosie Project and its sequels. Anne is the author of the psychological thriller The Long Shadow, and is Professor of Women's Mental Health at the University of Melbourne. They live in Melbourne.