The Truth About Thea (Hardcover)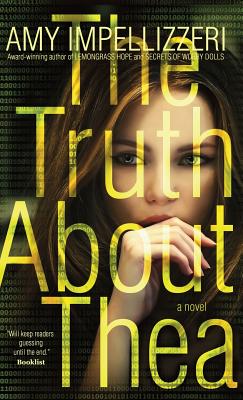 $28.00

Usually Ships Within a Week
This title is a nonreturnable book, so please make sure it is the right one!
Description
---
Will, a recovering heroin addict-turned-counselor for whom truth is a championed element to recovery, has a dark secret -- shared with no one outside of his anonymous AA meetings. Over twenty years ago, after an ultimatum from his pregnant ex-wife, Will was forced to assume a new identity and to fake his own death to get out from under his dealer and user-friends once and for all.
Now Will is counseling Thea, a young woman who has been diagnosed with a pathological addiction to creating fake social media identities, and who founded a start-up company ("Alibis") that created false internet identities for clients, many with suspect pasts. Thea's addiction has landed her in rehab as a condition of her parole -- after a plea bargain cut short a court case that would have put both Thea and Alibis on trial for a very high-profile crime.
As Will works with Thea, the truth is put into motion on a collision course. Both Will's, and his young client's, secrets start to unravel ... and reveal, at long last, the truth about Thea.