The Sacrifice of Lester Yates: A Novel (Hardcover)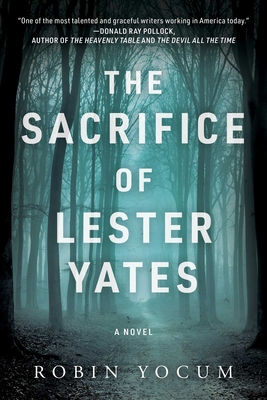 $25.99
On Our Shelves Now. We will contact you when your order is ready. Closed Mon & Tues.
Staff Reviews
---
My favorite new find!
Robin Yocum is something else! I call him a Rust Belt Peter May (for those of you familiar with Mr. May). By that I mean he's a great storyteller with his settings becoming such an integral part of the plot that you cannot divorce the two. He doesn't have a series, per se, but each novel overlaps the others in ubtle ways that only add depth to the characters and places the more you read.
All hail Robin Yocum!
— Pete
Description
---
A new political thriller from the author of bestselling novel The Essay. 

Lester Yates is the notorious Egypt Valley Strangler, one of the country's most prolific serial killers. Or, is he? Yates is two months from his date with the executioner when Ohio Attorney General Hutch Van Buren is presented with evidence that could exonerate him. But Yates is a political pawn, and forces exist that don't want him exonerated, regardless of the evidence. To do so could derail presidential aspirations and change the national political landscape. Yates' execution will clear a wide political path for many influential people, including Van Buren, who must battle both the clock and a political machine of which he is a part.
 
Robin Yocum has been compared with E. Annie Proulx for his authenticity of place, and Elmore Leonard for his well-laid plots and perfect pacing. Arcade is thrilled to publish The Sacrifice of Lester Yates, which is Yocum at his best: suspenseful, political, and smart.   
 
About the Author
---
An award-winning former crime reporter with the Columbus Dispatch, Robin Yocum has published two true crime books and five critically acclaimed novels. A Brilliant Death was a finalist for both the 2017 Edgar and the Silver Falchion for best adult mystery. Favorite Sons was named the 2011 Book of the Year for Mystery/Suspense by USA Book News. His short story, The Last Hit, was selected for Best American Mystery Stories 2020. He grew up in the Ohio River village of Brilliant and is a graduate of Bowling Green State University, where he received a degree in journalism, which kept him out of the steel mills and prevented an untimely and fiery death. 

 

 

 

 

 

 

 

 
 
Praise For…
---
"A brilliant thriller by a master of the neo-noir thriller. This should be on your nightstand. Read it." – Strand Magazine

"Propulsive reading with interesting characters, excellent pacing and pulled threads that take you smoothly along. . . . some of the most fluid and engaging writing I've ever read. A highly recommended read." – Murder in Common

"A well-paced, well-written thriller. The Sacrifice of Lester Yates is a good read – full of bantering dialogue, plot twists and a sense of place." – Columbus Dispatch

"The Sacrifice of Lester Yates (is) an exciting political thriller. Yocum ramps up the tension as Hutch tries to beat the clock . . . with conspiracy that goes in unexpected directions."--Akron Beacon-Journal

"Fast-paced and intriguing. This book kept me awake at night. 5/5 stars. – Reviewthickandthin.com.

"Grit-lit meets high-stakes legal/political thriller. A fun, zippy, well-plotted read. Yocum is a rare talent." – Reviewer Jim Thomsen on Goodreads

"The Sacrifice of Lester Yates is a fascinating and seamlessly plotted political/crime thriller that will pull you in with the first page and keep you biting your nails until the last. Yocum's Hutch Van Buren is a hero to root for as he digs into the very world of which he is a part." -- Linda Castillo, author of the New York Times bestselling Kate Burkholder series

"The Sacrifice of Lester Yates starts out as if a tale of true crime, then turns into a combination murder mystery and legal thriller, all set against the deceptively peaceful hills of eastern Ohio. Yocum's pacing as the clock ticks down on the execution date for a potentially innocent man will keep readers turning the page."-- Lisa Black, The New York Times bestselling author of the Theresa MacLean Series

"The Sacrifice of Lester Yates is at once fun to read and a dramatic portrayal of an ethical dilemma in the world where law, politics and high-profile crime meet.  As timely as a headline, mesmerizing, obviously written by an author who knows his subject.  Robin Yocum's The Sacrifice of Lester Yates is relentless, keen, entertaining and serious, too."  -- Craig Nova, award winning author of The Good Son

In Praise of Robin Yocum:

"Robin Yocum is one of the most talented and graceful writers working in America today." -- Donald Ray Pollock, author of The Devil All the Time and The Heavenly Table.
 
"Yocum writes like the reporter he used to be. He's observant and still has his eye for detail and nuance." -- Richmond Times Dispatch
 
"Yocum is at his best while he is observing or remembering ordinary experiences and people." -- Columbus Dispatch
 
"Like Annie Proulx, Richard Russo, and Richard Ford, Robin Yocum knows how to stake out a claim to a very particular part of America and make it uniquely his own." -- Howard Frank Mosher
 
"Yocum writes with assurance and a lively, engaging touch." -- Pittsburgh Post-Gazette
 
"Robin Yocum has just been added to my Read-Anything-He-Writes-Including-His-Grocery-List List." -- Gumshoes, Gats and Gams

In Praise of The Essay: 
"The story is not only a compassionate look at the boy's development, but a moving look at life in a depressed area of the country. The story is a heart-rending tale of real life characters, with deep insights into their makeup. The writing is plain and unadorned, and completely in tune with the people and place. Highly recommended." -- Midwest Book Review

"Like Annie Proulx, Richard Russo, and Richard Ford, Robin Yocum knows how to stake out a claim to a very particular part of America and make it uniquely his own. In Yocum's poignant and hard-hitting new novel, THE ESSAY, he explores, with great insight and craftsmanship, the coal mines and out-of-the-way farms and rivers and Friday night football games of southeastern Ohio. Jimmy Lee Hickam may come from a family of outlaws, but he's my latest literary hero. THE ESSAY is a book that young adults and veteran readers alike are going to love."--Howard Frank Mosher

In Praise of A Welcome Murder (2017):
"Superb…. the splendid pacing, the deceptively simple prose, and the high energy boiling just beneath it all prove addictive." —Booklist, STARRED REVIEW
"[An] exceptionally clever novel…. A rollicking tale sure to appeal to Donald Westlake and Elmore Leonard fans."—Publishers Weekly, STARRED REVIEW 
"Yocum releases a farcical basket of deplorables in Steubenville, Ohio, and lets them crawl all over each other in search of criminal advantage….a memorably merry tale of murder most richly deserved."—Kirkus Reviews, STARRED REVIEW   

In Praise of A Perfect Shot: (2018) 
"Outstanding….Yocum has crafted a harrowing yet touching story about friendship, loyalty, and doing what is right no matter the cost." —PUBLISHERS WEEKLY, STARRED REVIEW