Passion fruit of pineapple. Cookbook: 25 universal recipes for summer diet. (Paperback)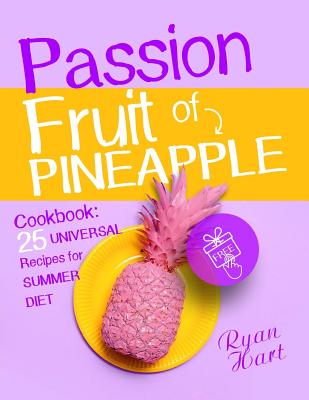 $9.99
Email or call for price.
Description
---
Are you a pineapple lover? Then you certainly must know that this fruit is not only super tasty but also it has a lot of health benefits
Pineapple is a sweet and nutrient-dense tropical fruit. It's not often people know that something that tastes so fantastic can also be so good for their health as well.Let's find out its main benefits:
Vitamin powerhouse
Immune booster and disease fighter More bang for your buck Limited bromelain benefit
Important information
Before you start to cook something with pineapple, there is some basicadvice in our cookbookyou should keep in mind when you buy and use pineapple
- Always use a bright yellow pineapple with fresh green leaves, and the fleshshould have a sweet taste.
- Buy a ready-to- eat pineapple. This type of pineapple is heavy and gives a sweetfragrance.
- Ripe pineapple can be stored for two days at room temperature and four days ina refrigerator.
- Peel and core pineapple and then slice it to get the juicy and tender flesh.
- Raw pineapple is best to use for drinks, smoothies, salads or ready-to- eatdesserts.
- Read on to discover this versatile tropical goodness.
If you are a great fan of healthy eating but at the same time you are a desserts lover - pineapple is the best choice for your healthy sweet diet
In this book you can find 25 delicious recipes with pineapple including:
Breakfast
Snacks and Side dishes
Main Course
Desserts
We recommend adding pineapple to your daily meals. Use our simple but tasty recipes will change your dishes. They won't be boring anymore
Don't hesitate and buy this Pineapple cookbook. Share your tasty happiness with those who deserve it. Share your pineapple love with those whom you love