Refreshing pineapple in your plate. Cookbook: 25 creative recipes for drinks, salads, main dishes, desserts.Full color (Paperback)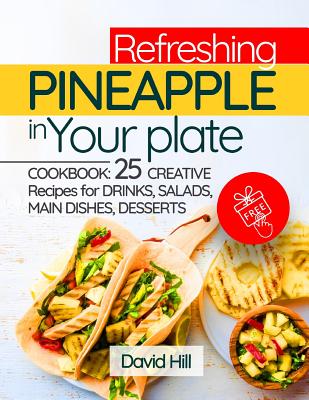 $13.75
Email or call for price.
Description
---
Are you looking for healing pineapple recipe that has an exceptional taste and flavor? Then this pineapple cookbook must become your best "kitchen" friend.
Pineapple is a delicious tasting, nutrient-dense yellow tropical fruit. Did you know that this fruit is healthy as well as delicious?
Pineapple is a storage of many health benefits:
-It is a great source of vitamin C, vitamin A, and antioxidants to improve your ability to fight against harmful infections and many diseases.
-Pineapples are also fat-free, cholesterol-free and low in sodium.
-This delicious and refreshing fruit is rich in manganese and bromelain.
While fresh pineapple is rather delicious as it is, you can also try incorporating it into different recipes. This fruit can be used not only to prepare smoothies but also your favorite salads, desserts and main course dishes.
"The Refreshing Pineapple Cookbook" consists of 25 amazing pineapple recipes such as:
-Pineapple smoothies and drinks
-Pineapple salads
-Pineapple main dishes
-Pineapple treats
-Pineapple desserts
This Pineapple book is the unique source of inspiration for those who want to eat delicious and healthy meals. Pineapple cookbook consists of easy recipes which you can make at home. Buy it now and pamper yourself