The Night She Disappeared: A Novel (Hardcover)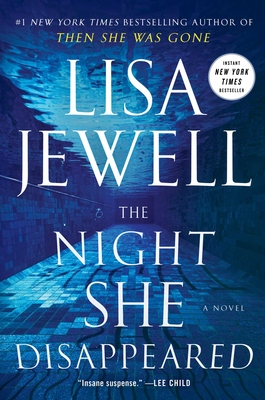 $28.00
Email or call for price.
September 2021 Indie Next List
---
"Lisa Jewell is indeed a master of suspense with The Night She Disappeared. Multiple timelines add to the suspense as the characters' lives began to interweave and the story builds to an unexpected climax."
— Eileen McGervey, One More Page Books, Arlington, VA
Description
---
INSTANT NEW YORK TIMES BESTSELLER
GOOD MORNING AMERICA BUZZ PICK

"Utterly gripping with richly drawn, hugely compelling characters, this is a first-class thriller with heart." —Lucy Foley, New York Times bestselling author

"Insane suspense." —Lee Child, New York Times bestselling author

"Her best thriller yet." —Harlan Coben, New York Times bestselling author

From the #1 New York Times bestselling author of Then She Was Gone comes another riveting work of psychological suspense about a beautiful young couple's disappearance on a gorgeous summer night, and the mother who will never give up trying to find them...

On a beautiful summer night in a charming English suburb, a young woman and her boyfriend disappear after partying at the massive country estate of a new college friend.

One year later, a writer moves into a cottage on the edge of the woods that border the same estate. Known locally as the Dark Place, the dense forest is the writer's favorite area for long walks and it's on one such walk that she stumbles upon a mysterious note that simply reads, "DIG HERE."

Could this be a clue towards what has happened to the missing young couple? And what exactly is buried in this haunted ground?

With her signature "rich, dark, and intricately twisted" (Ruth Ware, New York Times bestselling author) prose, Lisa Jewell has crafted a dazzling work of suspense that will keep you on the edge of your seat until the final page.
About the Author
---
Lisa Jewell is the #1 New York Times bestselling author of nineteen novels, including The Family Upstairs and Then She Was Gone, as well as Invisible Girl and Watching You. Her novels have sold over 10 million copies internationally, and her work has also been translated into twenty-nine languages. Connect with her on Twitter @LisaJewellUK, on Instagram @LisaJewellUK, and on Facebook @LisaJewellOfficial.
Praise For…
---
PRAISE FOR THE NIGHT SHE DISAPPEARED:

"No one tells stories like this better than Lisa Jewell . . . she gets right into it, doesn't mess about, puts real-seeming characters with rich interior lives through 350 pages of insane suspense—and then hits us with an ending we never saw coming. I love it."
— LEE CHILD, New York Times bestselling author of The Sentinel

"The queen of thrillers."
— Good Morning America

"Lisa Jewell is one of my favourite writers and this is her best yet. I read it in 24 hours. Utterly gripping with richly drawn, hugely compelling characters, this is a first class thriller with heart."
— LUCY FOLEY, New York Times bestselling author of The Guest List

"Lisa Jewell's latest thriller is sure to keep you up all night… Rejoice thriller lovers, our queen has returned! Jewell delivers yet another gripping mystery that will have your pulse and mind racing."
— E! Online

"I love all Lisa's books, but The Night She Disappeared is her best thriller yet."
— HARLAN COBEN, New York Times bestselling author of Win

"Thriller maestro."
— PopSugar

"Jewell is in top form in this suspenseful, satisfying story."
— Publishers Weekly

"Lisa Jewell is one of the best thriller writers out there, and The Night She Disappeared sets a new high-water mark. Electrifying, chilling and unputdownable. When friends ask for a book recommendation, this is the one I'll be sharing."
— SARAH PEKKANEN, New York Times bestselling co-author of The Wife Between Us

"Gripping and satisfying, this had me in tears at the end."
— The Guardian

"Jewell is skilled at keeping readers on their toes, always challenging our expectations of where a story is heading. . . . If you like to be kept guessing, this one's for you."
— Booklist

"No one thickens a plot like Lisa Jewell. I couldn't put this book down. Jewell just keeps getting better. It's SO GOOD!"
— SHARI LAPENA, New York Times bestselling author of The Couple Next Door

"A nail-biting, heart-thudding, 'please-let-her-be-all-right' stunner of a novel. Left me reeling."
— JANE CORRY, bestselling author of My Husband's Wife

"Mother of God, Lisa Jewell's on fire. The Night She Disappeared is UNBELIEVABLY good. I was utterly utterly agog."
— MARIAN KEYES, New York Times bestselling author of The Brightest Star in the Sky

"I'm passionately attached to Lisa Jewell, whose novels somehow manage to be good-natured, creepy and tense all at once."
— SARAH PERRY, bestselling author of The Essex Serpent

"Lisa Jewell has made a thriller out of my favourite literary ingredients. Abandoned mansion [tick]. Sex [tick]. Boarding school [tick]. SECRET TUNNELS [tick]. Kick-ass matriarch [tick]. Clues in paintings [tick]. I predict another number one."
— ERIN KELLY, author of He Said/She Said

"I'm calling it early. This is Lisa's best book yet, and she always sets that bar high! Stayed up so late because I couldn't put it down."
— ADELE PARKS, bestselling author of I Invited Her In

"Totally absorbing. I felt as though I'd slipped into the book and lived there for a few days, heart pounding. So so so amazing!"
— KATHERINE HEINY, bestselling author of Early Morning Riser

"Fans of Then She Was Gone will devour Lisa Jewell's latest. The Night She Disappeared is tense and electric, unleashing a storm of suspense from the very first page. With a mystery as taut and intricate as a spiderweb, this thriller ensnares its reader, gripping them tight until the satisfying and haunting conclusion. Once again, Jewell dazzles."
— MEGAN COLLINS, author of The Winter Sister and The Family Plot

"A head-scratching, heart-racing, page-turning triumph – I think this might be my favourite Lisa Jewell yet."
— LOUSE CANDLISH, author of Our House

"Masterly. Gripping from start to finish."
— JOANNE HARRIS, New York Times bestselling author of Chocolat

"'Tallulah suffers from arachnophobia. Tallulah is in the dark.' Absolutely loved this one by Lisa Jewell – compelling, deep, surprising, tense, modern. Most thrillers are in black and white to me in terms of character and Lisa is blazing saturated technicolour."
— GILLIAN McALLISTER, author of The Good Sister

"Lisa has certainly done it again with another first class mystery. It's got it all—captivating characters, a mysterious mansion in the woods and a burning question set up from the start to draw the reader in. I just had to know what happened next. Totally enthralling."
— HARRIET TYCE, author of Blood Orange

"As usual, the British author draws you in with characters and plot, building just enough tension and suspense that you will be rushing to find out just what happened."
— St. Louis Post Dispatch

"This new mystery from veteran author Lisa Jewell comes with twists, turns, and a clear moral to the story: Don't go to parties at houses named the Dark Place."
— Goodreads