Greenwood: A Novel (Hardcover)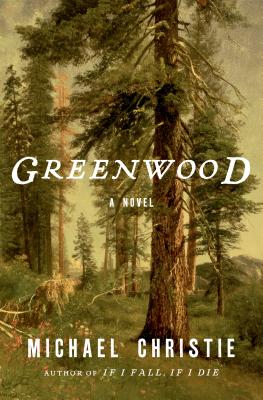 $28.00
Email or call for price.
Staff Reviews
---
For fans of Annie Proulx's Barkskin and The (oh so good) Overstory by Richard Powers, here's your next great timber story, a novel that incorporates the lyricism of Barkskin with the consciousness of The Overstory. While starting in the near future after a fungus that destroyed the world's forests, its arc covers the 20th century and one family who personify the ecological ruin caused by greed run rampant. Superb!
— Pete
March 2020 Indie Next List
---
"Trees: They provide shelter, sustenance, and sanctuary for vast numbers of creatures. They create the very air we breathe. And they are under threat. For generations, the Greenwood family lives with, destroys, fights for, and monetizes these gentle giants until their very existence is absorbed into the class system designed and upheld by the one percent. This is a sweeping arboreal saga full of blood, greed, heart, and humanity. Greenwood will fell readers worldwide."
— Bex Petterson, Bloomsbury Books, Ashland, OR
Description
---
A magnificent generational saga that charts a family's rise and fall, its secrets and inherited crimes, from one of Canada's most acclaimed novelists

Longlisted for the Scotiabank Giller Prize • "A rugged, riveting novel . . . This superb family saga will satisfy fans of Richard Powers's The Overstory."—Publishers Weekly (starred review)

"There are plenty of visionary moments laced into [Christie's] shape-shifting narrative. . . . Greenwood penetrates to the core of things."—The New York Times Book Review

It's 2038 and Jacinda (Jake) Greenwood is a storyteller and a liar, an overqualified tour guide babysitting ultra-rich vacationers in one of the world's last remaining forests. It's 2008 and Liam Greenwood is a carpenter, sprawled on his back after a workplace fall, calling out from the concrete floor of an empty mansion. It's 1974 and Willow Greenwood is out of jail, free after being locked up for one of her endless series of environmental protests: attempts at atonement for the sins of her father's once vast and violent timber empire. It's 1934 and Everett Greenwood is alone, as usual, in his maple-syrup camp squat, when he hears the cries of an abandoned infant and gets tangled up in the web of a crime, secrets, and betrayal that will cling to his family for decades.

And throughout, there are trees: a steady, silent pulse thrumming beneath Christie's effortless sentences, working as a guiding metaphor for withering, weathering, and survival. A shining, intricate clockwork of a novel, Greenwood is a rain-soaked and sun-dappled story of the bonds and breaking points of money and love, wood, and blood—and the hopeful, impossible task of growing toward the light.
About the Author
---
Michael Christie is the author of the novel If I Fall, If I Die, which was longlisted for the Scotiabank Giller Prize and the Kirkus Prize and selected as a New York Times Editors' Choice. His linked collection of stories, The Beggar's Garden, was longlisted for the Scotiabank Giller Prize, shortlisted for the Rogers Writers' Trust Fiction Prize, and won the City of Vancouver Book Award. His essays and book reviews have appeared in The New York Times, The Washington Post, and The Globe and Mail. A former carpenter and homeless-shelter worker, Christie divides his time between Victoria and Galiano Island, British Columbia, where he lives with his wife and two sons in a timber-frame house that he built himself.
Praise For…
---
"At once hypnotic and raging, dangerously real and brimming with hope, Greenwood is that most necessary epic that binds our human frailties to our planet's possibilities. Michael Christie tenderly rakes the past and paints a future without flinching. I read this book with my heart in my throat, in my hands, in my gut; I read this book heart-full."—Katy Simpson Smith, author of The Story of Land and Sea

"Greenwood is brilliant. Michael Christie shows a cross section of one family's history, revealing their dark secrets, loves, losses, and the mark of an accident still visible four generations later. Year by year, page by page, the layers of this intricate and elegant novel build into an epic story that is completely absorbing. I had to cancel everything for this book because I couldn't stop reading."—Claire Cameron, author of The Last Neanderthal

"Ingeniously structured and with prose as smooth as beech bark, Michael Christie's Greenwood is as compulsive as it is profound. Every one of Greenwood's characters burrowed their way into my heart. Beguilingly brilliant, timely, and utterly engrossing, Greenwood is one of my favorite reads in recent memory."—Kira Jane Buxton, author of Hollow Kingdom

"A time-hopping, globe-circling picaresque with apocalyptic themes . . . [Christie] broaches every kind of human valor, villainy and vulnerability: drug addiction, forbidden desires and laudable do-gooding, among others. He commands attention not through conservationist pieties but with the way his forest-killers and tree-loving zealots are equally off-kilter and contradiction-filled. . . . There are plenty of visionary moments laced into [Christie's] shape-shifting narrative. . . . Greenwood penetrates to the core of things."—The New York Times Book Review

"Christie skillfully teases out the details in a page-turner of a saga that complements sylvan books such as Sometimes a Great Notion and The Overstory. . . . Beguilingly structured, elegantly written: ecoapocalyptic but with hope that somehow we'll make it."—Kirkus Reviews (starred review)

"Rich with evocative descriptions of West Coast wilderness and anchored by a deep, visceral bond to the trees that sustain us all, Greenwood is a literary page-turner that manages to be both nostalgic and modern, personal and political, intimately human and big-picture historical. In an era of so much uncertainty, it is comforting to see novelists begin to work through the biggest issue of our age. And, in this case, convert our collective suffering into brilliant, beauty-filled art."—Toronto Star