Notes to Self: Essays (Paperback)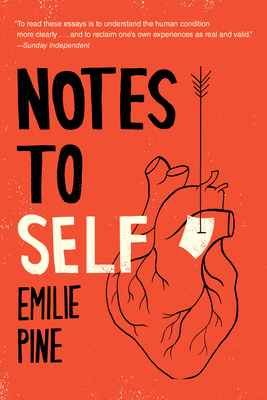 $17.00

Probably On Our Shelves Now! Wait for us to confirm availability.
Staff Reviews
---
So raw and straight forward in their intimacy, these essays become somehow universal. Emilie Pine acknowledges early on that in first writing, these pieces were her effort to get something-- some feeling, some pain, some shame-- out of herself and onto a page. As a whole, the book becomes a fascinating and compelling exploration of human life.
— Johanna
Description
---
The international sensation that illuminates the experiences women are supposed to hide—from addiction, anger, sexual assault, and infertility to joy, sensuality, and love.

WINNER OF THE AN POST IRISH BOOK OF THE YEAR • "Emilie Pine's voice is razor-sharp and raw; her story is utterly original yet as familiar as my own breath."—Glennon Doyle, #1 New York Times bestselling author of Love Warrior

In this dazzling debut, Emilie Pine speaks to the events that have marked her life—those emotional disruptions for which our society has no adequate language, at once bittersweet, clandestine, and ordinary. She writes with radical honesty on the unspeakable grief of infertility, on caring for an alcoholic parent, on taboos around female bodies and female pain, on sexual violence and violence against the self. This is the story of one woman, and of all women.

Devastating, poignant, and wise—and joyful against the odds—Notes to Self is an unforgettable exploration of what it feels like to be alive, and a daring act of rebellion against a society that is more comfortable with women's silence.

Praise for Notes to Self

"Notes to Self begins as a deceptively simple catalogue of the injustices of modern female life and slyly emerges as a screaming treatise on just what it means to make your own rules, turning the hand you've been dealt into the coolest game in town. Emilie Pine is like your best friend—if your best friend was so sharp she drew blood."—Lena Dunham, #1 New York Times bestselling author of Not That Kind of Girl

"To read these essays is to understand the human condition more clearly, to reassess one's place in the world, and to reclaim one's own experiences as real and valid."—Sunday Independent

"Harrowing, clear-eyed . . . Everyone should consider [this] priority reading."—Sunday Business Post

"Incredible and insightful—an absolute must-read."—The Skinny 

"Agonizing, uncompromising, starkly brilliant. . . . [A] short, gleamingly instructive book, both memoir and psychological exploration—a platform for that insistent internal voice that almost any woman . . . wishes they had ignored."—Financial Times

"Do not read this book in public. It will make you cry."—Anne Enright
About the Author
---
Emilie Pine is associate professor of modern drama at University College Dublin, Ireland. Pine has published widely as an academic and critic on culture and memory. Notes to Self is her first collection of personal essays.
Praise For…
---
"Emilie Pine's voice is razor-sharp and raw; her story is utterly original yet as familiar as my own breath. Both timeless and urgent, Notes to Self is my favorite memoir of the year—I will be giving copies of this stunning book to all of my friends."—Glennon Doyle, #1 New York Times bestselling author of Love Warrior

"Having read the first essay of these six personal pieces, you will spend the next few days telling people about it. . . . Such is the strength of the opening essay that, were it followed by 150 blank pages, this book would still be worth buying. As it turns out, the second inclusion, 'From the Baby Years,' is equally strong—I cried twice reading it. . . . She learns to speak of rape and menstrual blood, to look at and appreciate her body, to stop mistaking femininity for weakness. . . . Pine is fascinating and relatable throughout. As soon as you think you know her, she reveals another side. . . . I have already recommended this to several people. And I'm doing the same here."—The Sunday Times 

"Wry and uplifting. These are not new stories, but they still urgently need to be told. Pine does so with an honesty and vigor that are always uplifting, despite her painful material."—The Guardian (UK)

"Unsparing . . . formidable . . . raw . . . the kind of book you want to give to everyone . . . so that we can learn together to take ourselves and each other more seriously."—The Irish Times

"Every line pulses with the pain and joy and complexity of an extraordinary life."—Mark O'Connell, author of To Be a Machine

"Emilie Pine's collection of essays, Notes to Self, is light on its feet and goes in deep – family, class, the ways in which women are scared into silence." — Deborah Levy, bestselling author of Swimming Home and The Cost of Living 

"Absolutely superb."—Irish Examiner
 
"Brave, wise and beautifully nuanced, the six essays explore subjects that have traditionally been considered off-limits. . . . Though in the essays she pushes herself into painful, some­times traumatic, memories, there is humour in the darkness and vice versa. She is excellent at capturing contradiction and the complexity of human emotions—how happiness can con­tain grief, how the act of writing can make the writer powerful and vulnerable at once."—Irish Independent

"In turn heartbreaking and heart mending, raw and searingly honest."—RTÉ

"Every woman has that writer that makes them feel less alone in their own bodies, who, through their refusal to be silent about insecurity and embarrassment, answers the clawing ques­tion 'is it just me who feels like this?' Emilie Pine is that writer." —Totally Dublin

"It would be hard to find writing more powerful than that in these essays. . . . These are notes for everyone."—Image

"[Pine's] writing is clear and urgent, the kind that makes you sit up and take notice. . . . Well worth reading—not just for Pine's no-nonsense honesty when it comes to subjects many of us still aren't comfortable discussing, but also because she's acutely aware of how she's shaped the story of her life in these pages."—Independent