Pokémon: ¿Dónde está Pikachu? Busca y encuentra / Pokémon Seek and Find: Pikachu (COLECCIÓN POKÉMON) (Paperback)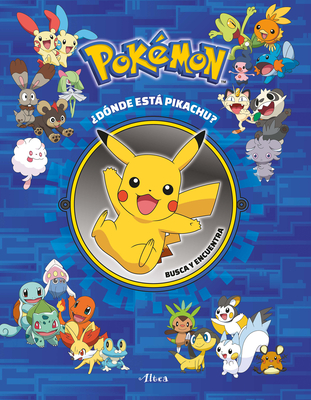 $12.95

Usually Ships Within a Week
Description
---
¿ESTÁS PREPARADO PARA LA MISIÓN?
 
UNA AVENTURA DE BUSCA Y ENCUENTRA: ¡PIKACHU CONOCE A EEVEE!

Sigue a Pikachu en este frenético viaje mientras exploras las regiones Pokémon más salvajes junto a su guía particular: ¡el amistoso Eevee y sus múltiples evoluciones! ¡Pero eso no es todo! Para cumplir tu misión, también deberás encontrar a los Pokémon escondidos en los rincones más ocultos de cada página. ¿Te atreves?
 
UNA GUÍA DE TODOS LOS POKÉMON DE ESTA HISTORIA

Encontrarás todo lo que necesitas para convertirte en un experto sobre Pikachu, Eevee y sus evoluciones.
 
JUEGOS Y ACTIVIDADES

Tests, rompecabezas, adivinanzas y mucho más para divertirte y poner a prueba tus conocimientos como maestro Pokémon.

ENGLISH DESCRIPTION

ARE YOU READY FOR THIS MISSION?

A Seek and Find Adventure! PIKACHU MEETS EEVEE
 
Follow Pikachu on a hectic trek to discover Eevee's eight Evolutions. Will you be able to find the Pokémon hiding in each scene?
 
A GUIDE TO ALL THE POKÉMON
 
You will find everything you need to become an expert on Pikachu, Eevee and their evolutions.
 
GAMES AND ACTIVITIES
 
Tests, puzzles, riddles, and much more to have fun and to test your knowledge as a Pokémon master.