War or Peace: The Christmas Truce of 1914 (Paperback)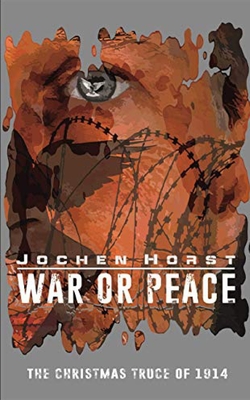 $9.99

Usually Ships Within a Week
This title is a nonreturnable book, so please make sure it is the right one!
Description
---
The international film and theater actor Jochen Horst was reading his written manuscript in theaters and - above all - in schools, before he decided to turn his text into a book. In the print version of this e-book the well-known photographer Paplo Palazzo underlines this historical episode with elaborate and expressive portraits of young men who could have stood against each other at the front in 1914. This publication is a huge success as it has been translated very quickly from the original German into English. The translations into Spanish, Russian and even Chinese are planned and already in progress. For the modern peace research, it was, and remains a phenomenon that has never been repeated, and thus remains unique in our recent history. A simple young German soldier quietly begins to sing a song and triggers one of the largest known fraternizations of humanity right in the middle of one of the most brutal wars mankind ever waged against its own kind. This one small moment of compassion in 1914 still encourages most of the discussions about pacifism, humanism and philosophies. Jochen Horst is a national and international award-winning actor in film and on stage for almost four decades. Since his training at the drama school in Graz / Austria and the Strasberg Institute in London he has been working as an author in recent years, whereby he shows a very flexible skill in his choices of topics. "Philosophies, playful stories, fiction and non-fiction are my passion," he says about his work as an author.