Dirt Bike Coloring Book: 50 Creative And Unique Drawings With Quotes On Every Other Page To Color In - Dirt Bike Coloring Book For Kids And Adu (Paperback)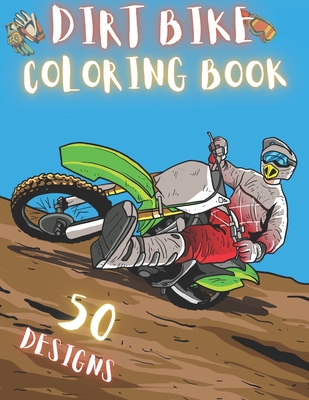 $5.97
Email or call for price.
Description
---
100 ++ Designs
Let Your Imagination Soar By Using The Colors Of Your Choice ♥
This Dirt Bike Coloring Book Is Filled With 50 Different & Creative Dirt Bike Designs, With Richly Detailed Line Art.
Each Page Is Unique, As Well As Holds A Different Sort Of Theme, As Each Biker Is Doing Something Else And Often Staged With Various Items.
The Books Includes Beautiful And Motivational Quotes On Every Other Page To Color In And Get A Unique Perspective While Enjoying Coloring The Amazing Drawings In This Book.
★ Pages Are Single Sided♥♥♥ Why You Will Absolutely Love this Book ♥♥♥ ♥
Relaxing Coloring Pages
- Every Page You Color Will Pull You Into A Relaxing World Where Your _Responsibilities Will Seem To Fade Away..._
♥ Beautiful Illustrations - We've Included 100+ Unique Images For You To Express Your Creativity And Make Masterpieces. You Can Use Markers, Gel Pens, Pencils And Watercolors. Everything Goes
♥ Something Extra - We've Given Beautiful And Chilling Quotes On Every Other Page
♥ Single-Sided Pages.- All Drawings Are Single Sided To Reduce The Bleed-Through Problem Found In Other Coloring Books
★ Great For All Skill Levels. - It Matches Perfectly To Your Skill Level & Coloring Experience, As It's Suitable For Beginners And Experts
- Size - 8.5 x 11 inches
- Premium Matte Finish Soft Cover
- Printed On Quality Cream Paper
- Professional Trade Binding
- Cool Cover
- Stand Out With This Unique Design
★ Well Crafted Interior - We Only Used Thick, White Paper To Avoid Ink Bleed-Through. The Pages Can Be Easily Marked So It Is Easy To Cross Reference
★ Coloring Book That's Build To Last - The Sturdy Cover Is Made Of Tough Paperback With Strong, Secure Professional Trade Binding So The Pages Won't Fall Apart After A Few Months Of Usage. We Want Our Books To Last For You So You Can Look Back Years After Use Conveniently
We Stand For Quality And Aim To Provide The Best Coloring Experience And Quality Art Work With Our Book Of Joys
Dirt Bike Lovers And Coloring Enthusiasts Would Definitely Love This One
You Will Love The Little Details Around The Bikers And Even A Few On The Dirt Bike, Directly To Break Up The Open Space In The Picture.
Grab Your Copy Now And Relax...